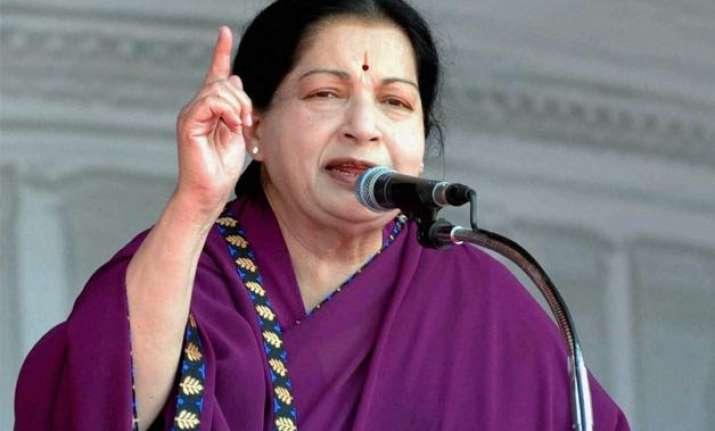 Chennai:  Ahead of the May 22 meeting of party legislators where she is expected to be elected their leader paving the way for her return as Chief Minister, AIADMK supremo Jayalalithaa today said things desired by her workers will happen at the right time and that "nobody can stop" it.  
Responding to the alleged suicide by a party functionary reportedly miffed over the delay in her return as CM, Jayalalithaa appealed to her supporters not to put her to grief by resorting to such extreme steps.
She said her political enemies were creating falsehoods "unable to bear our (AIADMK) rise".
"Those who have tried to defeat me have never succeeded.Rumours are being spread by them with an intention to ensure their political survival," she said in a statement here, days after her acquittal in the disproportionate assets case.  
She asked her party workers to ignore rumours and insisted that All India Anna Dravida Munnetra Kazhagam (AIADMK) walked a path of discipline and planned strategies.  
"We are at the cusp of victory after crossing all the hurdles. Our politics and administration should be based on legal principles and guidelines. That is how we have been functioning."
"That is why, our successive steps are being taken according to a planned itinerary. There is no confusion regarding this; no problems," she said, according to the statement.
Cadres should not mistake these tactical measures based on discipline and legal guidelines and make decisions in haste, she said.
"Those things desired by my dear party siblings will happen at the right time. Nobody can stop this. So there is no need for concern," she said.
Her statement comes in the wake of her acquittal in the wealth case by Karnataka High Court on May 11.  
While she was immediately expected to take over the reins of the administration from Chief Minister O Panneerselvam, she had taken her time and convened the MLAs' meeting on May 22 where she is expected to be elected as the Legislature Party Leader, the first step towards becoming Chief Minister.  
The delay in change of schemes had led to speculation in political circles about her returning as the CM, even as Opposition parties including DMK and Congress have been pressing the Karnataka government to file an appeal in the Supreme Court against her conviction.
Jayalalithaa also announced a relief of Rs three lakh to the family of the victim, S Raja, who had committed suicide allegedly unable to bear the delay in her taking over as Tamil Nadu Chief Minister.