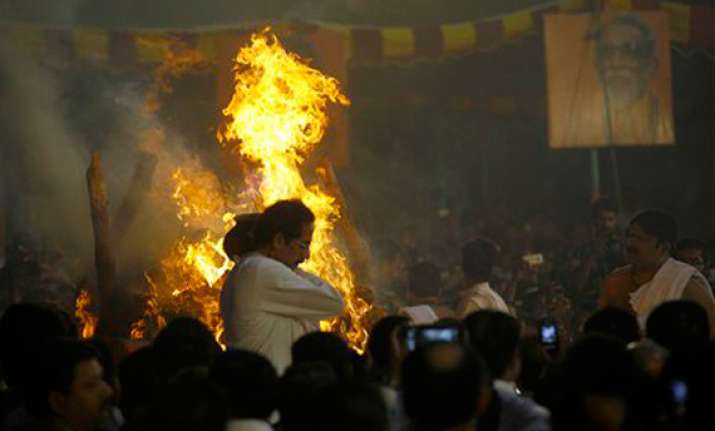 Mumbai, Nov. Nov 19:  The ashes of late Shiv Sena chief Bal Thackeray, who was cremated here Sunday, will be immersed in prominent rivers all over India Friday, a party official said here Monday.
Shiv Sena leaders across Maharashtra and party chiefs in other states would be given the ashes Tuesday from Shiv Sena Bhavan in Dadar, in central Mumbai, to be immersed in rivers.
The urns containing the ashes would be kept for public view at Shiv Sena offices Wednesday and Thursday.
As per Bal Thackeray's wishes, the ashes would be immersed in holy rivers at Harihareshwar, Nashik, Haridwar, Kashi, Kanyakumari and other places across the country.
Accompanied by a few family members, Shiv Sena executive president Uddhav Thackeray collected his father's ashes Monday morning from Shivaji Park, Dadar West, where the Sena patriarch was consigned to flames.
Bal Thackeray, 86, was cremated Sunday evening.
Uddhav Thackeray carried one urn to the family residence Matoshri in Bandra East. Another urn would be displayed at party headquarters Shiv Sena Bhavan to enable people to pay their homage to the departed leader, Sena officials said.