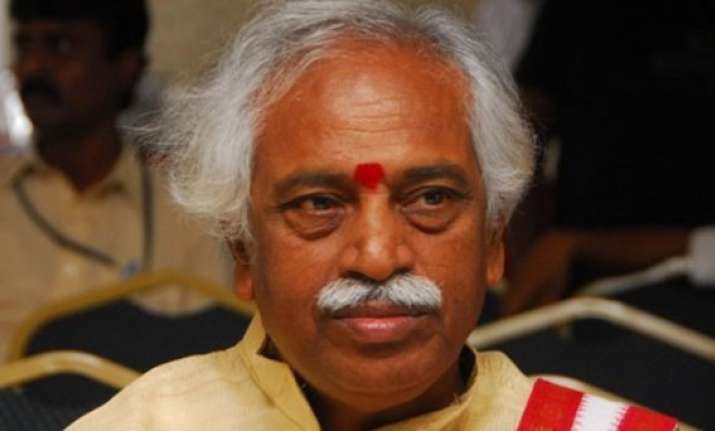 Hyderabad: BJP MP and the party's national vice president Bandaru Dattatreya today accused Telangana government of being "short-sighted and unprepared" which led to water and power shortage due to which several farmers have committed suicide in the newly formed state.  
"In the new state of Telangana, so far about 250 farmers committed suicide due to water and power shortage. Nobody expected this from the new state of Telangana. This situation arose only due to the short sightedness and unpreparedness of the Telangana government," Dattatreya said here.  
He demanded that Telangana state government provide Rs 5 lakh to each of bereaved farmers' families and take appropriate steps to help farmers with their loans, purchase of crops and granting fresh loans.
The BJP leader said the Cotton Corporation of India should purchase cotton at Rs 4,050 per quintal at market yards where the produce is brought by the farmers.  "I would also request the Union Agriculture Minister to come to the rescue of Telangana farmers. Further, Telangana government should also provide all amenities, drying yards and facilities to farmers immediately," he said.
 "There is a net shortage of 1,000 Mega Watts in Telangana which faces a serious problem. I would address Union Minister Piyush Goel to allot 500 Mega Watts urgently to Telangana State and provide relief to farmers and small scale industries," he said.
The BJP leader requested Andhra Pradesh Chief Minister N Chandrababu Naidu to be liberal in releasing legitimate share of power to Telangana from Krishnapatnam and Lower Sileru projects and come to the rescue of Telangana's farmers.  Dattatreya urged the common Governor of Andhra Pradesh and Telangana ESL Narasimhan to convince chief ministers of both the states to find an amicable solution to the power crisis.
"On behalf of the BJP, I strongly condemn the act of attacking TDP offices in Telangana and burning furniture by ruling party (TRS) activists which is undemocratic and unwarranted. It should not be tolerated in a healthy democracy. I also demand that Telangana Chief Minister as well as the home minister should take serious note and punish the culprits," Dattatreya said.