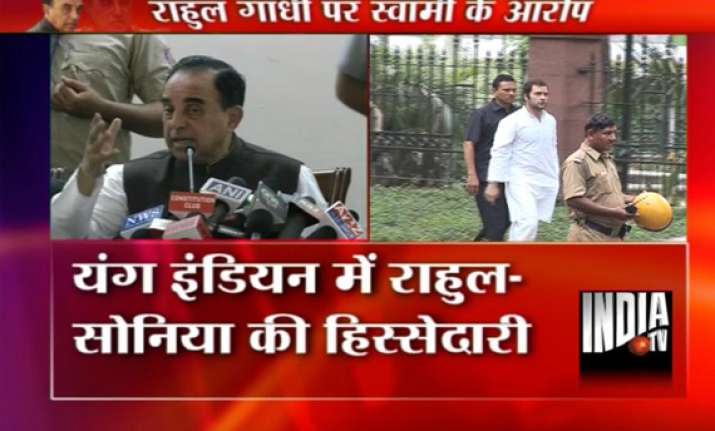 New Delhi, Nov 1: Janata Party chief Dr Subramanian Swamy today showed documents to allege that Congress president Sonia Gandhi and her son owned a company Young Indian, which violated laws by acquiring Associated Journals Ltd, which used to publish National Herald.
Associated Journals Ltd was founded by Jawaharlal Nehru in 1938 to publish National Herald which was providing a media platform for the Congress party.  
The newspaper later closed down after it ran up losses amounting to Rs 90 crores, but Associated Journals Ltd owned a prime property named Herald House on Delhi's Fleet Street, Bahadur Shah Zafar Marg.  
Dr Swamy alleged that Sonia Gandhi and Rahul owned 38 per cent each in Young Indian company. This company later bought Rs 91.2 crore worth shares from Associated Journals for a consideration of merely Rs 50 lakhs, he alleged.  
Moreover, Rahul Gandhi while filing his affidavit alongwith nomination for the 2009 elections, did not mention that he owned 3 lakh shares in the company, which was a violation of electoral laws, Swamy alleged.  
Sonia Gandhi conducted general body meetings of Young Indian company and Associated Journals Ltd in her government bungalow 10, Janpath, while it was expressly prohibited under rules, as a govt bungalow cannot be used for commercial purposes, Swamy alleged.  
Another "forgery" that was committed related to the names of shareholders in Young Indian company, which the Registrar of Companies website in 2008 showed the name of Rahul Gandhi written in hand, the Janata Party chief alleged.  
He also alleged that the Congress president, party general secretary and party treasurer Motilal Vora, gave zero-interest loan of Rs 50 lakhs  to Young Indian  for acquiring Associated Journals, which was expressly prohibited under electoral laws, as political parties cannot give loans for commercial transactions.  
All these, Dr Swamy said, are violations of Companies Act, Income Tax Act, Indian Penal Code and electoral laws.  
All this was done to grab a Rs 1600-crore worth of prime property in the heart of Delhi for a mere consideration of Rs 50 lakhs, Dr Swamy alleged.  
He demanded a joint probe by CBI and Special Frauds Investigation Office, and said, if the Prime Minister did not reply to his letter, he would go to court.