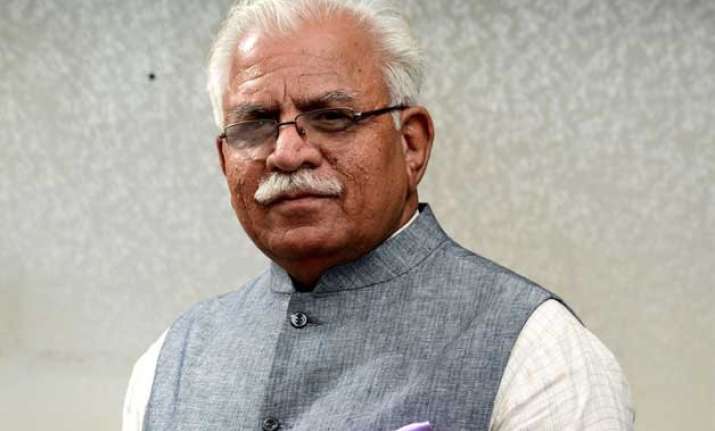 Faridabad: Haryana Chief Minister Manohar Lal Khattar today visited the family of the two Dalit children who were burnt alive at Sunped village here and said the incident should not be given a "political or casteist colour".
Khattar, who was expected to meet them yesterday, but his visit was cancelled in the wake of protests by angry locals, also handed over a cheque of Rs 10 lakh to the aggrieved family.
"We want that the investigation is done properly. But with great regret I have to say that some parties are trying to politicise this incident... It should not be given a political or casteist colour," the CM said.
He said that family's demand of CBI probe has been met and if there is any laxity on part of police, they will also not be spared.
"I met the victim's family today and handed them over a cheque of Rs 10 lakh. So far what has emerged from the investigation is that the matter is not a caste-related dispute but appears to be fallout of a long standing family feud," he told reporters after the meeting.
"I have been monitoring this case since the very beginning and when allegations came up against police officials a Special Investigation Team (SIT) was formed. Later the case was handed over to CBI as the relatives of the victim demanded that," he said.
Two-and-a-half-years-old Vaibhav and 11-month-old Divya died after the assailants allegedly poured petrol through one of the windows of their house on the intervening night of October 19-20.
While the children perished in the blaze allegedly set off by some upper caste people who had a running feud with the Dalit family, their mother Rekha, 28, suffered serious burns and is battling for life in a Delhi hospital. Their father Jitender, 31, also received injuries while trying to save them.
"The family has so far named 11 persons as perpetrators out of which 6 have been arrested and on the basis of their complaint, seven police officials have also been suspended," the Chief Minister said.
During the 15-minute long meeting with the family, he also assured them that the government will help with the treatment of the woman, if needed.
Khattar also called Haryana a "peaceful" state and claimed that such incidents are not likely to happen again.
Later, he travelled to outskirts of the village and met the relatives of the accused at a circuit house. He had a ten-minute meeting with wives of three persons who were allegedly killed last year by relatives of Jitender hence fuelling the family enmity further.
Under attack from the Opposition and ally LJP, the Haryana government had yesterday recommended a CBI probe into the incident.
Congress vice president Rahul Gandhi had also visited the village yesterday where he accused the Prime Minister, Khattar, the BJP and RSS of practicising "politics of crushing" those who are weak which results in such incidents.