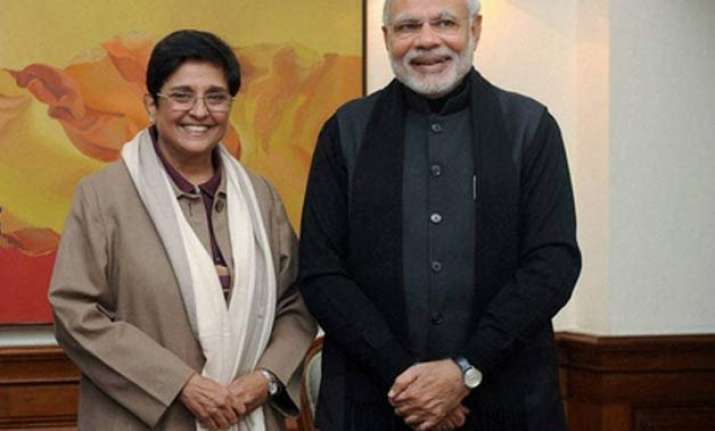 New Delhi: The Delhi unit of Bharatiya Janata Party (BJP) seems to be  deeply divided over the issue of projection of Kiran Bedi as the CM candidate in upcoming Assembly elections.
Manoj Tiwari, party MP from East Delhi constituency,  today said that Kiran Bedi is a party worker and must conduct herself like one.
"I didn't like the way she spoke to BJP workers a few days ago. I wasn't there...but this is the feedback I've got from workers. She is not the Chief Ministerial candidate so far. We don't need someone like a 'thaanedar' (policeman). We need a leader who can take everyone along," the actor-turned-politician said.
The party has reportedly taken strong exception to Tiwary's remarks and has  warned him against saying anything that goes against party line.
Meanwhile, Senior party leader Jagdish Mukhi has admitted that party's state leaders were not consulted much before taking call on Kiran Bedi.
"There must have been consultation at the highest level, but at the level of the state unit there wasn't much consultation. See, priorities are very different now. It is to enrol 10 crore members and to make the party the largest in the world. Anyone can join. Nobody can stop anybody, there is no question of consultation," Mukhi told a leading English daily.
When asked whether Bedi's induction had left older and senior party leaders disappointed, Mukhi, considered one of the BJP's chief minister aspirants, said, "I do not know about others but I can talk about myself. I am a soldier of the RSS, I work for a cause, for a mission. If the leadership feels that induction of Bedi serves their purpose better, so be it."
"The party has not declared her as the CM candidate... It is possible she is designated campaign committee chief," he added.
There is growing resentment among the top rank leaders the Delhi BJP against the party's decision to induct Bedi.
Yesterday, all seven Lok Sabha MPs were called over tea by Kiran Bedi. All the lawmakers were asked by the party's state unit office to be present at newly indicted leader's office.
Out of seven, only four MPs turned up for the tea meet. They were -- New Delhi MP Meenakshi Lekhi, West Delhi MP Parvesh Sahib Singh, South Delhi MP RameshBidhuri and East Delhi MP MaheishGirri. RajyaSabha MP Vijay Goel was also present. Two of those who could not make it include -- Northeast Delhi MP ManojTiwari and Northwest Delhi MP Udit Raj. The remaining one -- Union Minister Harsh Vardhan turned up a bit late.
The MPs were informed about the meeting by Delhi BJP office, and not Bedi's office. "If it was a courtesy meeting, then her office could have called us,'' said an MP.