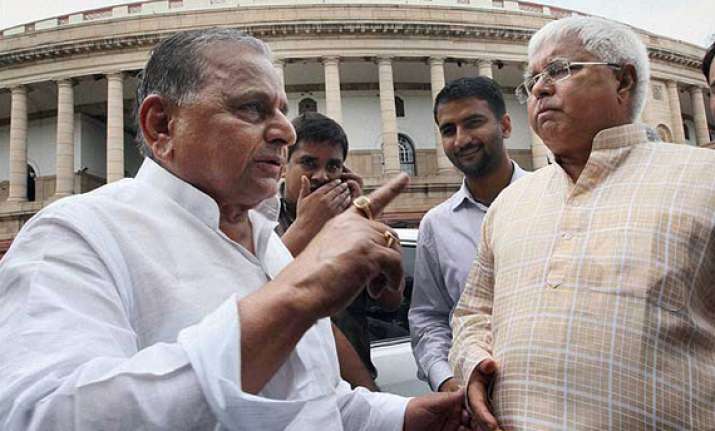 New Delhi, Dec 21: As the government prepared to table Lokpal Bill in Parliament tomorrow, Samajwadi Party and RJD today opposed the legislation, contending that it would give "all powers" to the police.

SP leader Mulayam Singh Yadav and RJD chief Lalu Prasad made their opposition known in the Lok Sabha after BSP raised an unrelated issue of manhandling of one of its MPs by SPG personnel inside Parliament complex.

Yadav warned the government that the proposed legislation would give "all powers" to the police.

"Lokpal will not be in your hands. It will go to the hands of police. Nothing can be done then against the police," he said and apparently referred to Anna Hazare as he asked whether all this could be done "under pressure of one man".

He said his party will oppose as much as it can. "These powers will go to the police, they will not respect us (MPs). Superintendents of Police and District Magistrates will send us to jail," Yadav said.

"Think over it seriously as to whom you are going to give powers," Yadav told the government.

"May you have the powers, I have no objection. Let the Prime Minister have the powers, let (Sharad) Pawar 'sahab' have the powers, I have no objection. But by giving all powers to the police, what do you want to do with this country?...  This incident (of manhandling) has happened today. See what happens when Lokpal comes," the Samajwadi Party chief said.

RJD chief Lalu Prasad joined Yadav, saying that he had not raised any insignificant issue but the government was not paying attention as if it had "disappeared".

"You are going to give powers by which everybody's throats would be cut. What happened to the suggestions given at the all-party meeting? You keep saying remain with us... They are getting bill after bill passed gradually and hurting the country's future and democracy," Lalu Prasad said.

Suspecting something fishy, Prasad said all details about the Lokpal Bill should be conveyed to them before they decide whether to pass it or not.

He said there should be "consensus" before the bill is brought to Parliament as a decision on such major issue could not be taken without thinking.

"You (government) are telling everyone, fall in a pit, push the country (into pit). This will not happen," he said.

"Today, it is the SPG, tomorrow it will be the police. They will slap (us)," Prasad said.

Meanwhile, Samajwadi Party spokesman Mohan Singh told reporters outside Parliament that the Lokpal Bill cleared by the Cabinet yesterday didn't generate any hope about creating a strong anti-corruption body and it would move amendments on the issue during discussion in the Parliament. 

"By whatever we have read in the media, it seems Anna Hazare's complaint that Government has placed a tin box where people will complain and Lokpal will forward it for action is proving to be right," Mohan Singh said. 

Observing that the Government had given an assurance to the opposition parties on creation of a strong Lokpal, he said it would be difficult to expect a strong Lokpal given the draft Bill that has emerged.

BJP leader Mukhtar Abbas Naqvi said the Congress was trying to create a "helpless" Lokpal and not a strong one.