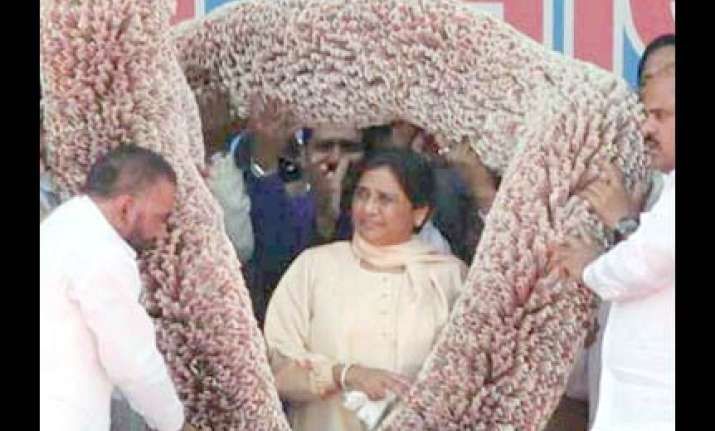 Uttar Pradesh Chief Minister Mayawati was on Tuesday in the eye of a fresh storm in the Lok Sabha with Samajwadi Party and Congress demanding a probe into the multi-crore garland presented to her at a lavish BSP rally in Lucknow.
Members of SP and Congress created uproar in the House during Zero Hour, forcing Speaker Meira Kumar to adjourn it for about 45 minutes till 1 PM and later till 2 PM.
The members, including SP chief Mulayam Singh Yadav and Jagdambika Pal (Congress), were heard saying that the garland made of currency notes of Rs 1000 denomination was worth Rs 10 to Rs 15 crore.
Amid din, they demanded a probe to ascertain from where the money came.
Some BSP members were seen countering them, but what they said could not be heard in the din.
The Speaker disallowed them, saying listed matters of Zero Hour should be allowed to be raised. However, her repeated pleas went unheeded and she adjourned the House.
The issue of lavish celebrations of BSP's 25th founding day found its echo in Lok Sabha yesterday also when the SP chief accused Mayawati of spending Rs 200 crore on the rally.
Yadav was joined by party colleagues along with Pal in alleging that Mayawati was celebrating while Bareilly was burning in communal fire. PTI