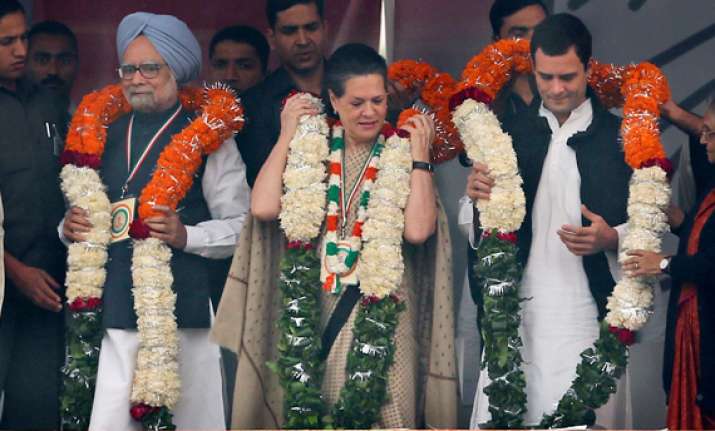 New Delhi, Nov 4: Buffeted by charges of corruption against its government, the Congress put up a massive show of strength at a rally here Sunday with Prime Minister Manmohan Singh and Congress chief Sonia Gandhi hitting back at detractors and asserting that the recent slew of economic reforms will benefit the country and create more jobs.
Addressing the Congress party's rally at the Ramlila Maidan here, the prime minister said the move to allow foreign investment in multi brand retail and hiking diesel prices in the face of much opposition were aimed at ushering in faster economic reforms that "will help the country to progress and earn more money to launch welfare schemes to help the poor people."
He said the economic reforms were needed to create more jobs. "People are being misled about our recent economic decisions," he said.
Reiterating his Sep 21 speech to the nation after the United Progressive Alliance (UPA) government decided to to open up the economy to multi-brand retail trade, the prime minister said that FDI was beneficial for farmers and would not hurt small traders. The Trinamool Congress had walked out of the UPA government on Sep 21 over the move while its ally the Samajwadi Party has also voiced concern over the move.