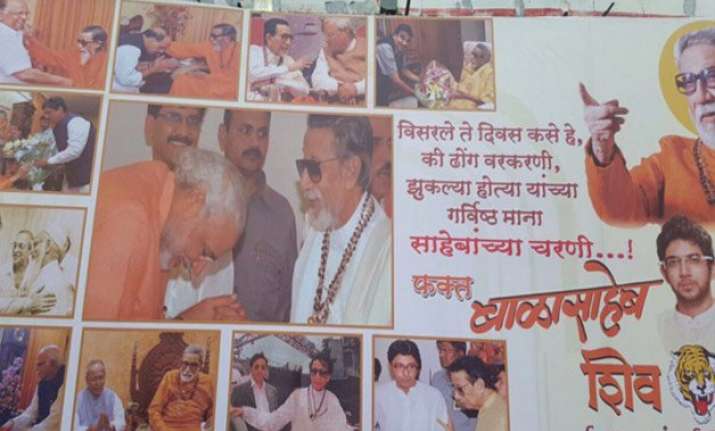 Mumbai: Amidst tension in the ties between the ruling alliance partners, Shiv Sena came up with a poster showing Prime Minister Narendra Modi and senior BJP leaders bowing to late Bal Thackeray.
The poster, which was put up at Sena Bhawan in Dadar by the party's East Mumbai unit, showed Modi bowing reverentially before Thackeray.
The party, however, removed the poster later on.
Besides Modi, Union Home Minister Rajnath Singh, Nitiin Gadkari, LK Advani, Atal Behari Vajpayee, Raj Thackeray were portrayed in the poster.
Chiding the PM and others, the poster read, 'those who do dhong should not forget the day when their head used to bow before saheb'.
Shiv Sena's senior leader Manohar Joshi said that the party wants to remind the BJP about its old days through posters the poster.
"We only put up posters to remember our old days. The BJP leaders used to bow to Balasaheb. And thus it is very important to remember everything before speaking anything," he said.
Yesterday, senior BJP leader and Finance Minister Arun Jaitley had spoke out against acts of vandalism, saying "all right-thinking sections" disapproved of this "extremely disturbing trend".
Shiv Sena has had blow hot and cold ties with BJP from the time the two parties went through a bitter separation before the Maharashtra Assembly polls and then formed an uneasy alliance after the results were declared.
The alliance partners have clashed on a slew of issues, ranging from a nuclear plant in Jaitapur to the distribution of portfolios.
Sena forcing the cancellation of Pakistani ghazal singer Ghulam Ali's concerts in Pune and Mumbai, and the recent paint attack on Sudheendra Kulkarni, a former BJP member, has been seen as further widening the chasm between the Hindutva allies.