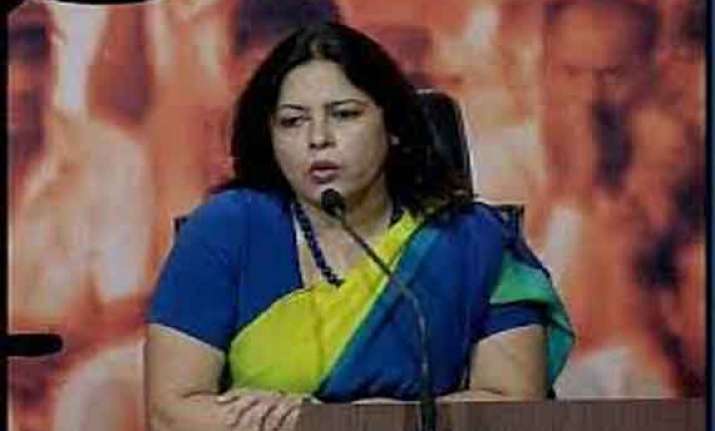 Mumbai: Stepping up its attack on Congress for pillorying Gujarat chief minister Narendra Modi over his "shehzada" (prince) taunt aimed at Rahul Gandhi, BJP today hit back with scorn, saying if it would be alright to call the Congress vice-president "badshah".
"Rahul Gandhi's statement (that Pak spies are trying to indoctrinate Muslims in Muzaffarnagar) was against the patriotic Muslims in the country.
"If he (Rahul) shouldn't be called as 'shehzada', then should he be called a 'badshah'?" party spokesperson Meenakshi Lekhi told reporters here.
Stung by Modi's barbs, the Congress had warned that calling Rahul as "shehzada" will not be tolerated, only to be slammed by Modi who retorted that he would stop doing so if Congress ends dynastic politics.
Attacking Congress-led UPA government at Centre and the Bihar government over Sunday's serial blasts in Patna at Modi's rally, Lekhi alleged that Congress leaders were engaged in making "irresponsible" political statements after the incident.
"Irresponsible political statements are being made from the government side and leaders from the Congress over the serial blasts in Patna during Modi's rally," she said.
The BJP leader alleged that "basic security protocol" was not followed at the rally venue.
The government has been inefficient in dismantling the terror network, she said. "Centre's negligence has led to the roots of IM getting stronger in the country. IM is not working for any particular religion, but is indulging in dividing the country," Lekhi said.
Backing Modi for attending the rally even after the blasts took place, she said, "He went there, otherwise a wrong message would have been sent."
Criticising Union Home Minister Sushilkumar Shinde for attending a music function in Mumbai on the day the blasts took place, she asked if such ministers should continue.
"The government played with the security arrangements. We have demanded for Special Protection Group (SPG) for Modi's security. Why should the SPG security be limited to a particular family?" she said.