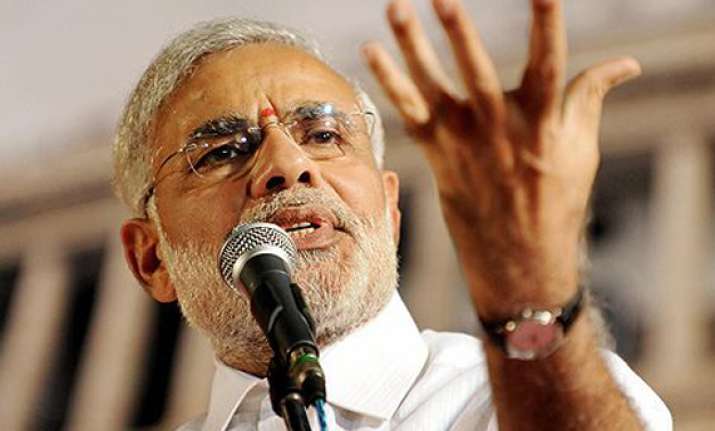 Ahmedabad, June 4: The Enquiry Commission appointed by Gujarat government to enquire into charges of corruption levelled by opposition parties against chief minister Narendra Modi began its hearing today.
Retired Supreme Court Judge M B Shah is the chairman of the one-member commission appointed by the state government on August 17, 2011.
Making its case against Modi, People's Union for Civic Liberties today demanded that the state government should give details about the land given to various industrial houses and also sought to know whether the government rules were followed while allotting land.
Special public prosecutor appointed by the Gujarat government, Bhaskar Tanna, argued that the charges made against the chief minister were baseless as the state government alloted the land as per the rules.
Media was not allowed inside the court room.
Further hearing would be held by the Commission next Monday.
Modi government had appointed the Commission in the wake of opposition Congress submitting a memorandum to the President of India Pratibha Patil in June 2011 alleging that state government under Modi had indulged in large scale corruption and favouritism to industrial houses.
The terms of reference of the Commission include enquiry into the allegations of Congress regarding favouritism toward certain industrial houses, state government's negligence in this regard, if any and any other allegation that the Enquiry Commission deems it fit to enquire.
The Commission has also to study the manner in which land had been allocated to industry and analyse all tax concessions given vis-à-vis other states with Gujarat.
The Commission will also look into post-1980 role of successive Gujarat governments in giving special relaxations to industrial houses.
The terms of the Inquiry Commission are comprehensive and include all points raised by the Congress party in its memorandum to the President.
The 15-point charter of allegations handed over to the Inquiry Commission includes conducting inquiry in allegation that land had been given to industries near the state capital at Gandhinagar at very low prices; that Rs 33,000 crore concession given to the Tata's Nano car project for relocation from Singur in West Bengal to Sanand.
It also includes allegations over the land allotment to Adani Industrial House for Mundra Port and Mundra SEZ.