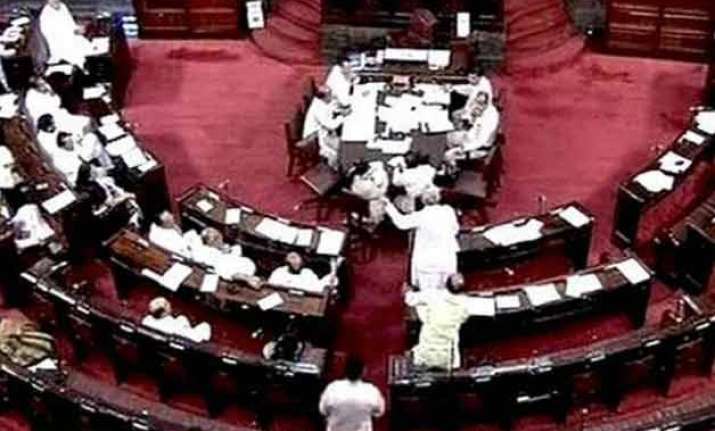 New Delhi: Opposition members in Rajya Sabha worked on a well-coordinated strategy on Tuesday to embarrass the Narendra Modi government by making their 'operation shame-the-government' a success.
Sources said that lawmakers had decided not to use mobile phones to communicate with each other, possibly to avoid their phones getting tapped by the government and thus resulting into a 'big' failure of their plan.
The Samajwadi Party and the Nationalist Congress Party took the longest to come on board. The NCP abstained from the House to avoid a vote on an amendment to the President Pranab Mukherjee's speech. Leaders of both the political parties have recently been seen sharing dais in public functions with Modi.
ALSO READ: Modi seeks explanation from MPs over their absence during voting
This was the fourth time that a government's motion of thanks has been amended. It previously happened in 1980, 1989 and 2001 and always in the Rajya Sabha.
In a major embarrassment on Tuesday, the amendment moved by Communist Party of India-Marxist (CPI-M) leader Sitaram Yechury on the failure of the government to address high level corruption and failure to bring back black money was passed in the Rajya Sabha.
After this amendment the government's Motion of Thanks to President speech at the start of the session will now include: "...regret that there is no mention in the address about the failure of the government to curb the high level corruption and to bring back black money."
The ruling BJP is in a minority in the Upper House of the Parliament.
The amendment was passed with 118 votes in favor and 57 against it.
Meanwhile, unhappy over the embarrassment government had to face in Rajya Sabha, Modi pulled up MPs from BJP and NDA who were absent from the House at the crucial time of voting in favour of amendment to the President's address.
Modi sought an explanation from 10 BJP members and 12 from allies who were absent from the House.
BJP currently has 46 members in Rajya Sabha while NDA has six members from TDP, three each from Shiv Sena and Shiromani Akali Dal (SAD), two from PDP and one each from other smaller parties.