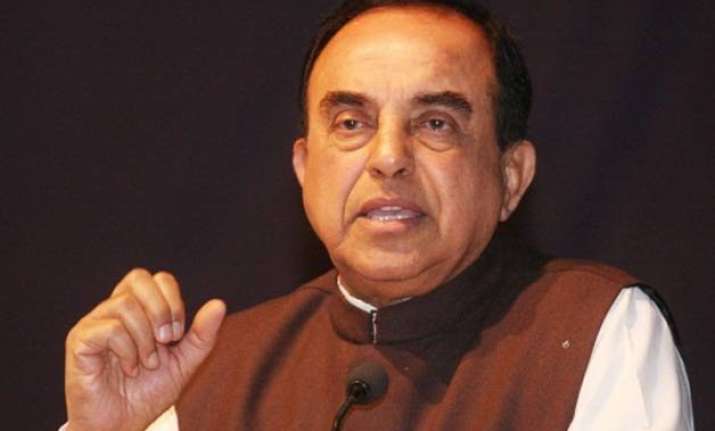 New Delhi: Senior Bharatiya Janata Party (BJP) leader Subramanian Swamy today claimed that former prime minister Rajiv Gandhi had promised him of support for the construction of Ram Mandir in Ayodhya and appealed to the Congress to come forward and support the cause.
"Rajiv Gandhi had promised me that he will extend full-hearted support for Ram Mandir. He helped us... he started the Ramayana television serial. He had said they will permit the foundation laying, too. He had also said in his campaign for 1989 elections that there should be Ram Rajya in the country. I hope Congress will also come forward and support as this is not just our demand but that of the country," he said while addressing a gathering on the first day of the two-day-long seminar on Ram Janmabhoomi in the Delhi University campus.  
Expressing confidence that the Supreme Court verdict will be in the favour of Hindus, he said, "Nothing will be done forcibly and against the law. I am sure that we will win in the court."
The firebrand leader, however, noted that construction of the Ram temple is 'mandatory' and that he would not 'give up until it is made'.
Maintaining that the issue surrounding the construction of the Ram Mandir in Ayodhya should not be seen as a political stunt, he said, "Suppose we don't do it this year, the next year is the election and then we have to do it the following year which is 2018. Then you will say it is for the Lok Sabha elections. Every year there is an election. So, we can't stop our activities just because there is going to be an election."
Swamy further claimed that most people from the Muslim community were not opposed to the construction of the temple as Hindus are in favour of a Masjid across the Saryu river in Ayodhya.
"The public is quite sensible. They will know that it is an election stunt or not. The whole country wants... 99 per cent of the Hindus today want the Mandir to be built and most of the Christians and the Muslims are not opposed to it because we are not against building the Masjid across the Saryu river in Ayodhya," he said.
"Most of the Muslims in our country are converts," he added.
Swamy had earlier said that the construction of the Ram Temple in Ayodhya would begin by the end of 2016 with the cooperation of the Muslim community.