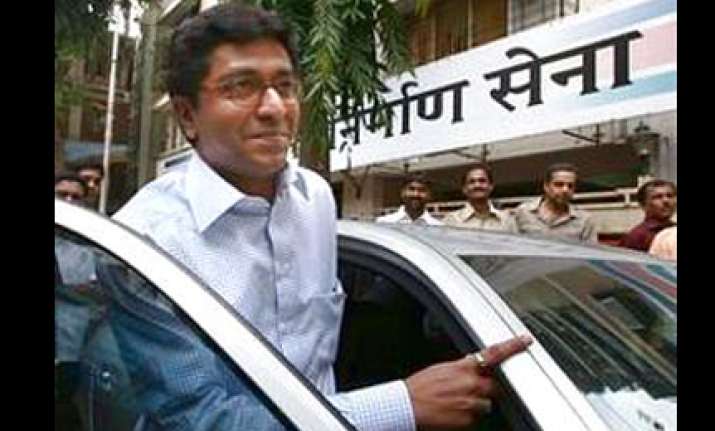 Launching fresh offensive against Shiv Sena, Maharashtra Navnirman Sena chief Raj Thackeray on Sunday questioned the former's love for Marathi manoos and said it is poll-oriented. 
"Shiv Sena is interested only in Marathi votes and not the Marathi manoos. Their affection towards Marathi manoos started only after they (Sena) realised that Marathi people voted in huge numbers for MNS during last Lok Sabha polls," Raj said in suburban Bhadup.
He said Sena has never spoken against Biharis or people from Uttar Pradesh. 
"Sena never spoke against Biharis or against people from Uttar Pradesh. In fact, they are the ones who started 'Chhat pooja' and 'UP Day' in Maharashtra," Raj said while inaugurating his party's campaign for the Maharashtra Assembly polls. 
Earlier Sena had said that it was not sons-of-the-soil but Hindutva that brought them to power, Raj said and asked why are they now eying for Marathi votes' 
Raising the issue of Sena coming to power 20 years after being formed, the MNS chief asked, "Why did the Sena required two decades to come to power in Brihanmumbai Municipal Corporation in the state full of Marathi manoos". 
Sena was formed in 1965 and won the BMC polls in 1985. 
He also criticised Sena ally BJP, jumping on the Marathi bandwagon. "Of the 13 BJP MPs, nine are non-Marathis. Why are they now talking about Marathi pride'," he questioned.
Referring to the Maharashtra Government's Economic Survey, Raj said Marathi population in the state has gone down in the last decade and the number of Hindi-speaking has increased. 
"In 1991, Marathi population was 73.3 per cent and 2001, it came down to 68.8 per cent. While Hindi population grew from 7.8 per cent to 11 in the same period," he said. 
Accusing Sena of ploying to separate Mumbai from Maharashtra, Raj said 73 Sena corporators in BMC are non-Marathis. 
He said, similarly, Congress MP Sanjay Nirupam's demand to nominate North Indian candidates on 35 seats in Mumbai for state assembly elections is another step in this regard. 
"Basically, it is Congress which is demanding these seats so as to throw the Marathi people out of Mumbai," he alleged. 
Raj also criticised Sena for backing BJP's Mahesh Jethmalani, a non-Marathi during the last Lok Sabha elections. 
"In Bandra, Shilpa Sarpotdar was the only Marathi candidate who contested against Jethmalani and Priya Dutt of Congress. Uddhav should tell whom did he vote for," he said. 
The MNS chief also flayed the ruling Congress-NCP alliance for always taking Marathi voters for granted and appeasing outsiders. 
"The Government regularises illegal slums inhabited by outsiders, but the government workers or policemen do not get permanent house in Mumbai," he said assuring that if the MNS comes to power, it would provide permanent houses to them. PTI