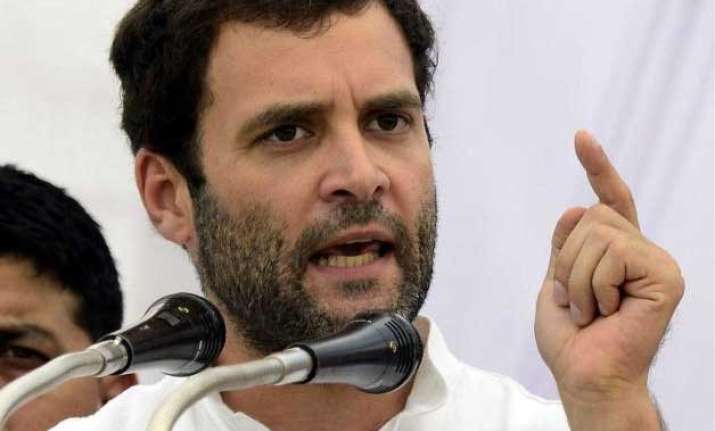 Mumbai: Vice President Rahul Gandhi today targeted the BJP-led Government at the Centre over the price rise issue, seeking to know why the rates of essential commodities were skyrocketing at a time when oil prices were at record low in international market.
He said the Narendra Modi Government's policies are benefiting only a few top industrialists of the country and took potshots at the NDA's 'Make in India' initiative.
"When UPA Government was in power, the petrol price(in global market) was USD 150 a barrel. Now this has come down to USD 29 per barrel. I want to know where have these lakhs of crores of money, which have been saved on account of lower oil prices, have gone? Why the prices of pulses have shot up to Rs 230 a kg?" he asked.
"This is happening because the Modi Government's polices are benefiting only top 2-3 industrialists of the country. When our Government was in power, we worked for the benefit of the common people," the Amethi MP said.
He took potshots over make Modi's Make in India initiative and asked the Prime Minister to visit Dharavi, a sprawling slum locality in the heart of Mumbai, and see for himself how entrepreneurship works.
"Modiji you should first come here in Dharavi (which houses hundreds of small-scale industries) and see the kind of entrepreneurial works that takes place here. First complete Make in Dharavi, then only Make in India would bear fruit," the Congress Vice-President said.
People of Dharavi are capable of doing wonders as far as manufacturing (the focus of Make in India campaign) is concerned, he said.
Rahul was speaking at a gathering at the end of his padayatra (foot march) from suburban Bandra to Dharavi undertaken to highlight the issue of "high" electricity tariff in the metropolis.
(Reopens BOM10)
Rahul said without strengthening the hands of small entrepreneurs, 'Make in India' would become a "dud".
The Congress leader demanded an audit of electricity distribution companies serving the metropolis.
The previous UPA Government had brought a Bill to protect the hawkers of Mumbai, but the current BJP-led ruling coalition is sitting on it, he alleged.
"(Sanjay) Nirupam (Mumbai Congress President) will raise this issue at the State-level, while I would take up the matter in Parliament."
Speaking on the occasion, Nirupam accused the city's electricity companies of "looting" the consumers.
He put forth three demands related to power companies and tariff before the BJP-led State Government.
"First, intervene in the tariff hike issue as power companies are looting the consumers. Second, order a CAG audit into the functioning of these companies and third put in place a common tariff plan for the entire metropolis.