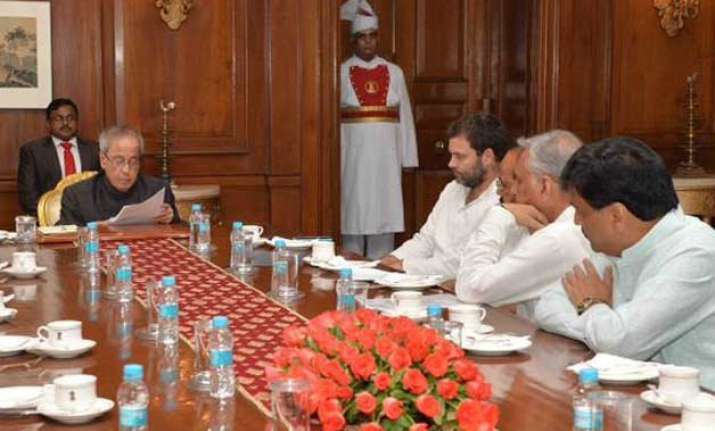 New Delhi: Congress vice-president Rahul Gandhi today met President Pranab Mukherjee in Rashtrapati Bhavan and put forth the demand of FTII students  for the removal of newly appointed chairman Gajendra Chauhan.
Addressing the mediapersons, Gandhi said we briefed the president on FTII matter and sought removal of its chairperson Gajendra Chauhan.
Taking a dig at the BJP government and its parent organisation RSS,  Rahul said that the students are fighting for the soul of the country and the only qualification of these people, who have been placed in these positions, is that they sing paeans in praise of  the PM and RSS.
Last month, the Congress vice-president Rahul Gandhi visited FTII campus in Pune expressing solidarity with students and slammed Narendra Modi government for imposing its will on the students.
Gandhi also attacked the RSS ideology alleging that it was systematically promoting "mediocrity" in various institutions.
The BJP hit back with its activists protesting his presence, and party leaders questioning his own credentials for being his party's second in command.
FTII students have been on strike for the past 65 days objecting to appointment of TV actor Gajendra Chauhan, known for his role of 'Yudhishtira' in popular tele-serial Mahabharat and a member of the BJP, as institution's chairman. He has rejected calls for his resignation.