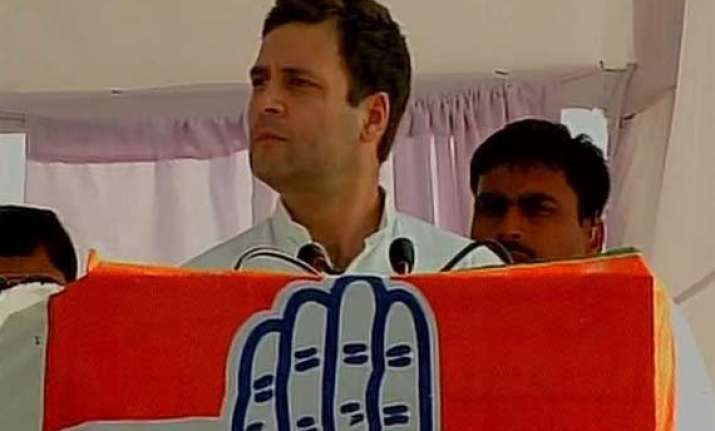 Jhirka (Haryana): Charging Prime Minister Narendra Modi with working for a few industrialists, Rahul Gandhi today alleged Modi lifted control on drug prices at the behest of some US companies which has led to cancer medicines costing over Rs 1 lakh instead of Rs 8000 earlier.  
Addressing an election rally here, the Congress Vice President accused Modi of taking the decision before his visit to the US to please American companies. Diabetes drugs have also become expensive, he said.
"He is working for big industrialists and very soon the country will be run only for them," he told the gathering.  Gandhi also coined a new slogan for Haryana, "Jai Jawan, Jai Kisan, Jai Pahalwan", in a reference to a number of world class wrestlers the state has produced of late.  He said Congress was proud of the party-ruled state's development and attacked BJP for its claim that it is lagging behind in progress.
Haryana is number one in GDP and milk production, he claimed.
Modi's charge that Congress did nothing in the last 60 years is an insult to the farmers and labourers who have toiled hard all these years to help the country progress, Gandhi said.
He also accused the BJP government at the Centre of working to dilute welfare laws brought in by Congress, like the Land Acquisition Act and MGNREGA.  Taking a dig at Modi over unabated ceasefire violations and Chinese incursion, Gandhi said, "It is easy for some people to speak but doing things is difficult."
"There is a difference between our thinking and that of the BJP leaders.
They say nothing happened in 60 years. They gave the slogan of 'Acche Din' and you saw what happened," the Nehru-Gandhi scion said addressing his first poll rally here in Mewat district for the October 15 Haryana Assembly polls.  
In a vieled dig at Modi, Gandhi said, "What the country has achieved has not been done by one individual", but because of the sweat and blood which the citizens have given for its progress over the years.
In his 15-minute speech, he said, "We don't want to empower one individual, we want to strengthen farmers, labourers, this is our politics."
Gandhi, who reached the rally venue behind schedule, also attacked Haryana's main opposition INLD, asking the people "to recall the reign of terror that ruled the roost when they ruled".
He alleged extortions, firing on agitating farmers were the order of the day, even as jobs were on sale during INLD rule.
Referring to Chinese incursions, he lashed out at Modi for "sitting on a swing" with Chinese President Xi Jinping when Chinese forces had intruded into Ladakh.  
"When BJP campaigned in the the Lok Sabha polls, they said they will teach a lessson to China and Pakistan The Chinese President came to India and our Prime Minister was sitting on a swing with him even as Chinese forces intruded into Ladakh," he said.
On the shelling and firing by the Pakistani troops, Gandhi said people are dying, but they (the government) is sitting quiet.
Outlining the progress made by Haryana during the Congress rule, he said the state has been made an education hub, it has got AIIMS extension, IIM, IIT extension, Rajiv Gandhi Education City and a defence university.  
"We connnected Haryana with the corridor from Mumbai and it will generate employment for the youth," he said.