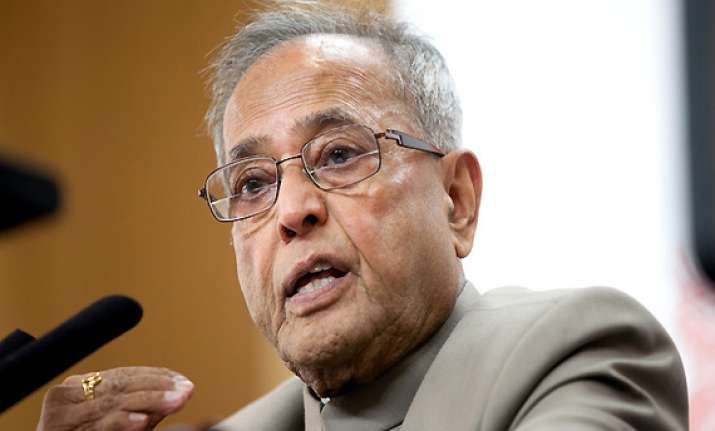 Dehra Dun, Jan 24: Union Finance Minister Pranab Mukherjee accused BJP of being responsible for the Rajya Sabha's failure to pass the Lokpal Bill by changing its stand within 24 hours.

Due to the change in the stand of BJP within 24 hours time, a strong Lokpal bill could not be passed in the Rajya Sabha, he told reporters here.

"If any party changes its stand within 24 hours, then government cannot be held responsible for non-passage of the Bill," Mukherjee said.

Mukherjee claimed Congress is the only party which has a long record of taking action against those found indulging in corruption." I don't think any other party can make such a claim," he said, adding a BJP president was caught on camera taking bribe.

The Congress leader criticised BJP for giving five Chief Ministers during their seven-year-rule in Uttarakhand saying when CMs are changed frequently.

The mandate is given for five years but when CMs are being changed frequently, there is no stability as well as accountability, Mukherjee said.

"BJP should explain why they changed CMs. Mr Khanduri (Uttarakhand Chief Minister B C Khanduri) was not a new man.  He was a union minister and then he had held the post of Chief Minister. He should have been continued," he said.

In this context, he pointed out that stability and continuity are closely linked with accountability which leads to development, security and advancement.

Alleging non-utilization of central funds in Uttarakhand by the BJP government, Mukherjee cited statistics of central funds given under four important sectors of rural development, human resource development, health and family welfare and road transport and said a substantial amount of Rs 8075 was given to Uttarakhand during seven years.

The total outlay for plan expenditure was also increased substantially, he added. "I want to ask them (government) how much money was spent and who should be held accountable for its non-utilisation," the Finance Minister added.

Mukherjee asked BJP to tell the people who should be held accountable for non-utilisation of central funds for development.

The Union Minister also attacked the BJP government on the issue of scrapping of hydroelectric projects bowing under pressure from environmentalists and others.

"On one hand, you say that state is facing problem of power and on the other hand, you are offering a glass of juice to those who want scrapping of hydel projects. How these two things can go together"? he said.

In this regard, he referred to Lohari Nagpala project which he said had to be abandoned for the reason.