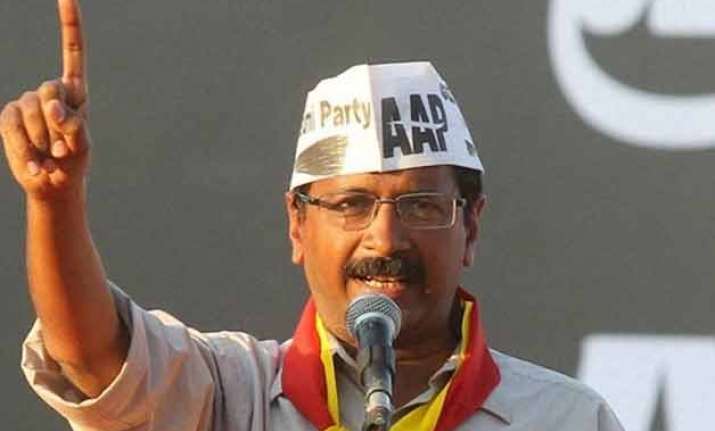 Hyderabad: Delhi Chief Minister Arvind Kejriwal will visit Hyderabad today to meet the family of the Dalit research scholar who committed suicide, an official told IANS.
AAP leaders Ashish Khetan and Ashish Talwar reached Hydrabad on Thursday to meet protesting students there.
Kejriwal had on Wednesday demanded that Prime Minister Narendra Modi sack HRD Minister Smriti Irani, Labour Minister Bandaru Dattatreya and apologise to the nation over the suicide by the Dalit student, questioning their "interference" in the internal affairs of the institution.
Congress vice-president Rahul Gandhi visited the university on  Tuesday, he accused that Union Ministers and the Vice-Chancellor of the University of Hyderabad were not being fair, thus forcing Dalit research scholar Rohith Vemula to commit suicide.
Meanwhile, BSP chief Mayawati has demanded legal action against Union Ministers Smriti Irani and Bandaru Dattatreya over the alleged suicide of a Dalit research scholar in Hyderabad Central University. She also demanded the same action against the HCU Vice-Chancellor Appa Rao.
Human Resource Development Minister Smriti Irani said there was a "malicious attempt to project it as a caste battle". Another central minister, Bandaru Dattatreya, insisted he did not influence the university to suspend Rohith Vemula - who killed himself - and four other students.
"There has been a malicious attempt to project the issue as a caste battle. The truth is that, it is not," Irani told the media in New Delhi, in her first reaction to the raging row.
The Joint Action Committee (JAC) for social justice, an umbrella of student groups, continue its protest at the university that remained shut. The protesters have vowed not to allow classes till Vice Chancellor Appa Rao resigns and justice is done to Rohith's family.
A two-member committee sent by the human resource development ministry continued its probe for a second consecutive day.
Minister of State for Labour Dattareya, who represents Secunderabad in the Lok Sabha, clarified that he did not put pressure on the university to suspend any student.
He said he merely forwarded two representations he got from the Akhil Bharatiya Vidyarthi Parishad (ABVP) to the human resource development ministry.
Dattatreya extended his heartfelt condolences to Rohith's family.
Rohith Vemula ended his life on Sunday in the University of Hyderabad after his suspension following an alleged clash with a leader of the Akhil Bharatiya Vidyarthi Parishad, which is affiliated to the RSS.
Congress leader Rahul Gandhi visited the university on Tuesday