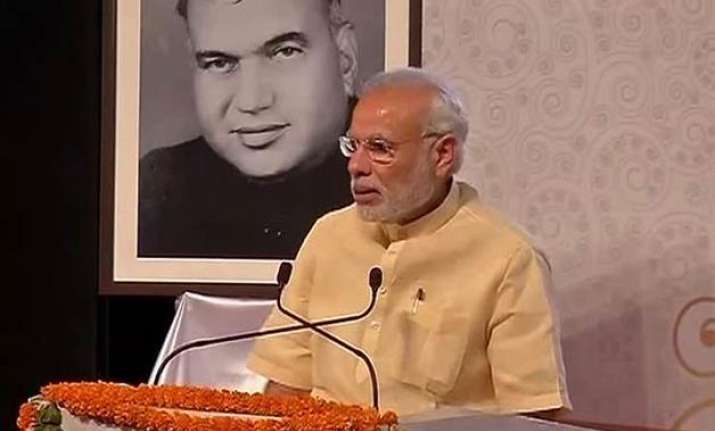 The Prime Minister took a dig at the culture of dynastic politics and appeared to target Congress by taking a veiled swipe at Sonia Gandhi's son-in-law Robert Vadra who is embroiled in controversies over his land deals.
He also disapproved of political untouchability, saying the national heritage should not be divided and all leaders who have worked and died for the nation should be given equal regard irrespective of their ideologies and affiliations.
Modi, who was here to commemorate the birth centenary of late leader Girdhari Lal Dogra, hailed him for the selfless contribution to the society without indulging in nepotism.
Prime Minister Narendra Modi addressed studens at Jammu University on the occassion of birth centenary celebrations of late Congress leader Girdhari Lal Dogra.
Highlights of PM Modi's speech
- The world and the nation will celebrate Eid. I convey my greetings on this occasion: PM
- The hope is that we are inspired by the life Dogra sahab lived as a human being & a political leader: PM
- There is no question of political untouchability. Everyone who worked for the nation has to be respected: PM
- There was no similarity in the political ideology of Dogra Sahab and Arun Jaitley ji & neither are remembered due to each other: PM
- I am very sure that Girdhari Lal ji's judgement of character was very sharp, it shows in his choice of son-in-law: PM
- Dogra Sahab would have been a very good judge of people's abilities. And one example is the son-in-law he selected: PM
- Earlier, I saw exhibits. What touched me was the fact that in all of Girdhari Lal ji's photos I never saw single person from his family: PM
- Its a victory for Girdhari Lal Dogra ji that he inspired a line of leaders after him, he became a man who shaped a generation of leaders: PM
Dogra was the state's finance minister for over two decades and a Member of Parliament from Udhampur-Doda and Jammu-Poonch Lok Sabha constituencies.
Union Finance Minister Arun Jaitley, Jammu and Kashmir Chief Minister Mufti Sayeed, Minister in Prime Minister's Office Jitendra Singh were also present on the occasion.
This is the Prime Minister's first visit to the border state after BJP-PDP alliance formed government here in March this year.
During his day-long visit, Modi is expected to announce a mega development package of around Rs 70,000 crore for the border state.
The Prime Minister is also likely to announce an AIIMS for the Jammu region.
The BJP for the first time had managed to win 25 Assembly seats in last year's assembly elections and be a part of the government. Modi had last visited Jammu on March 1 to attend the swearing-in-ceremony of the PDP- BJP government.