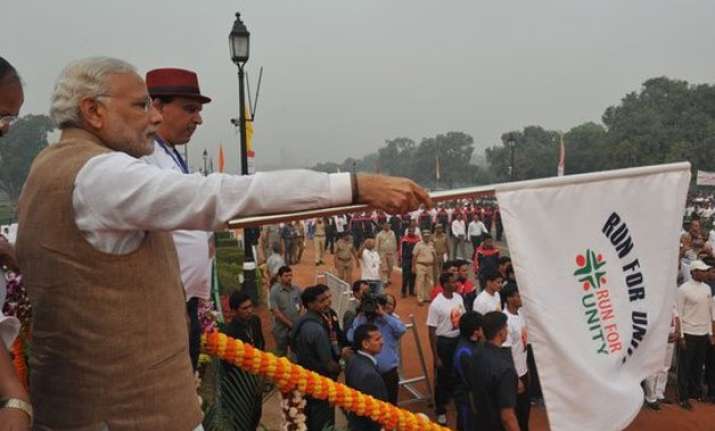 New Delhi: Prime Minister Narendra Modi on Saturday flagged off the "Run for Unity' at Rajpath here on the bith anniversary of Sardar Vallabhbhai Patel, and urged people to take inspiration from his life and work for the country's unity and integrity.
The prime minister also administered a pledge to the thousands of people, which included school and college students, personnel of paramilitary forces, and people residing in and around here, gathered at the Rajpath.
Highlights:
* PM Narendra Modi flags off 'Run For Unity' at Rajpath
* For example:- under this yojana, if Haryana pairs with Tamil Nadu, then school students will be taught about Tamil culture & language for a period: PM
* "Ek Bharat Shreshth Bharat" once implemented will be states recognising and learning about another state's culture & language: PM
* Unity, peace and harmony first condition for India to achieve new heights of development: PM Modi
* Sardar Patel never indulged in dynastic politics. No family name or members are linked to his legacy.
* Sardar Patel inspires the thought that there is no family name or members linked to his legacy: PM Modi
* This effort went on under strict eye of Sardar Patel and it was Gandhiji who noted and appreciated the effort: PM Modi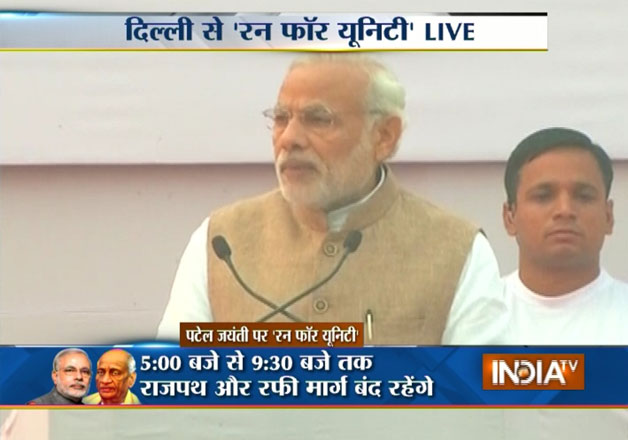 * Sardar Patel started Swachta Abhiyaan that went on for 222 days: PM Modi
* Sardar sahab gave us "Ek Bharat", it is our prime responsibility is to be give him a "Shreshth Bharat": PM
* After Chanakya, it was Sardar Patel who strung India together with unity: PM Modi
* Sardar Vallabhbhai Patel's ideology and heritage can never be forgotten. He contributed immensely to India's unity: PM
* As we are commemorating Vallabhbhai Patel, we also remember Indira Gandhi this day: PM Modi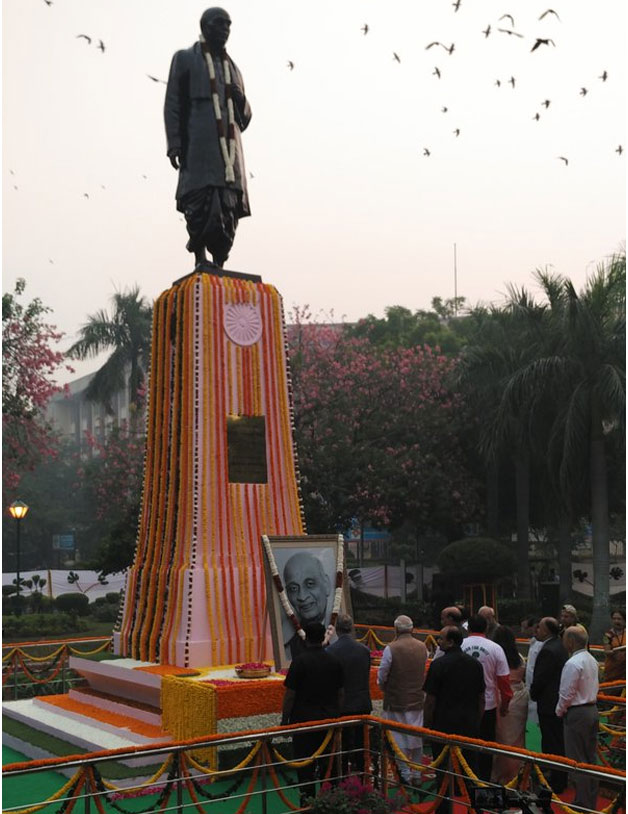 * PM Modi, Rajnath Singh, Venkaiah Naidu, Delhi CM & Delhi LG at Rajpath
* PM Modi pays tribute to Vallabhbhai Patel on his birth anniversary at Patel Chowk
On the eve of the Rashtriya Ekta Diwas (National Unity Day), the pledge of National Unity was administered at many offices of the Government of India in New Delhi on Friday.