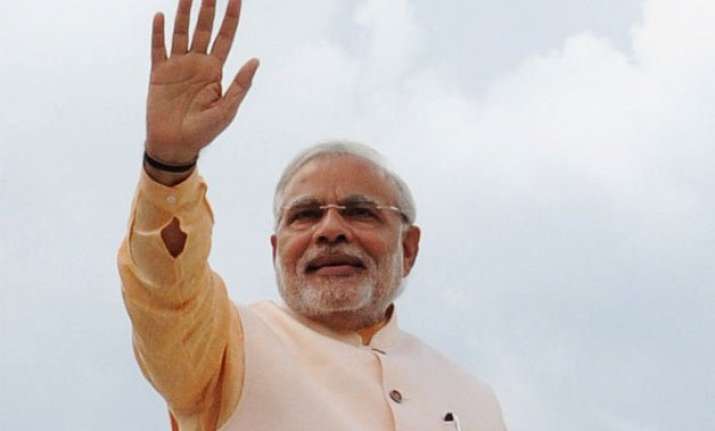 Raipur: Prime Minister Narendra Modi is today on a day long visit to Naxal-affected Dantewada district of Chhattisgarh to take stock of socio-economic development initiatives being taken there.
This is Modi's first visit to the region after becoming the PM last year.
Here are the LIVE updates:
Under previous government, the only news in the paper were of scams. We have been in power for a year, have there been such news?: PM Modi
But some people were happy keeping people poor. Now when change is happening they can not digest it: PM Modi
I recognize talent and skill. And when I speak to people in the world its not me talking but the entire India talking: PM Modi
Even the developed and happy nations of the world are laying emphasis on skill development: PM Modi
Violence has no future, peace does: PM Modi
I want to thank Raman Singh ji. He provided computer and pens to children who were holding guns : PM Modi
I am sure that people who indulge in such activities, humanity exists in them and they will change: PM Modi
Do not get disappointed. Even Naxal activities will be fought: PM Modi
Send iron out and get steel from outside, this has to stop. We will make steel from the iron ore: PM Modi
Development to reach all corridors of society: PM Modi
Development must reach the poor. Jobs for the youth are at the core of our policies: PM Modi
No parents want their child to go far only to live in "jhopdis" in cities. Thats why its Government's responsibility to bring development to everyone: PM Modi
The adivasis of this area, which has the blessing of Mother Danteshwari, have taught the world how to live: PM Modi
People know that employment is of prime importance. They can build a house, educate their children, etc only if they are employed: PM Modi
This is probably the first time in Bastar's history that projects worth Rs. 24,000 crore have been signed in just one hour: PM Modi
I am very happy I got the chance to come meet you all: PM Modi
PM Modi addresses public meeting in Dantewada
Chattisgarh CM Raman Singh addresses crowd.
Dantewada (Chhattisgarh): PM Narendra Modi extended a warm welcome, will address a public meeting shortly.
Naxals saw this opportunity and went and drove away laborers.
Forces are working very bravely. This problem has been here long, the issue is being dealt with in all ways possible: Home Minister Rajnath Singh on Sukma incident
There is a bridge under construction. Now, Naxals oppose construction of bridges or roads, as they oppose all developmental work: RK Singh.
This is not true: RK Singh (Former Home Secretary) on reports of villagers held hostage by Naxals in Sukma.
Chattisgarh government denies report of villagers being held hostage by Naxals.
Naxalites blow up a railway track in Dantewada district.
Just before Prime Minsiter Narendra Modi's visit to Naxal-affected Dantewada district in Chattisgarh, Maoists have held 500 people hostage in Marenga village of Sukma district.
According to early reports, the villagers were on their way to attend PM's rally when Naxalites held them hostage. A local BJP leader Shrichand Sundrani has confirmed the reports however, more information is awaited.
PM Modi answers questions by students.
PM Modi addresses students at Saksham Vidyalaya in Dantewada's education city.
In the wake of Modi's visit, Naxalites have called a two-day bandh in the region to oppose the PM's visit.
Ahead of the visit, Dantewada district was converted into a fortress. A 17-layer strong security cover has been provided for PM in the Red Zone. Apart from 200 COBRA personnel, around 15,000 jawans of National Security Guards (NSG) and Paramilitary forces are being deployed in the area.
PM Modi will inaugurate two mega projects for setting up of ultra mega steel plant and second phase of Rowghat-Jagdalpur railway line, state government officials said.
The Prime Minister will be visiting an education city, aimed at providing education to under-privileged children living in the area. Modi will also be interacting with the students there, they said.
The education city spread across over 100 acres and built at the cost of approximately Rs 120 crore provides residential and classroom educational facilities.
It is estimated to serve almost 5,000 most deprived children of the region every year by providing them the opportunity to have quality education.
Modi will also visit a livelihood college, that has been imparting necessary skills to youths living in Dantewada region to help them get suitable employment opportunities.