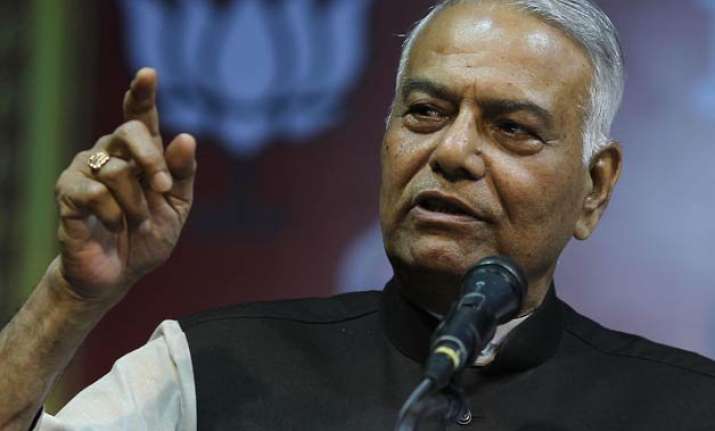 New Delhi: In the backdrop of evidences hinting at Pakistan's role in Pathankot terror attack, senior BJP leader and former External Affairs Minister Yashwant Sinha has said that it would be surprising if 'New Delhi holds Foreign Secretary-level talks with Pakistan' in mid-January.
Criticising the foreign policy of Modi government, Sinha said that the government must be careful while resuming the dialogue with Pakistan as the recent attack once again indicates that 'nothing had changed on the ground in Pakistan'.
"As far as Pakistan is concerned, nothing has changed on the ground and all the red lines were in place. Even then we extended the hand of friendship," Sinha said in a conversation with India Today yesterday.
Reminding the government of its earlier version on Pakistan that talks cannot go hand-in-hand with terrorism, the BJP veteran said, "Government has changed its policy towards terrorism, I don't know the reason for it. I was not only the Foreign Minister in the Vajpayee government, but also the spokesperson for the party on foreign affairs."
Sinha further said that the attack on the IAF airbase was a result of major security lapse and drastic steps were needed to secure the country's border.
"The government must introspect over national security. The impression gaining ground was that India was a 'soft state' since 'we tend to talk more and act less. This must change," he said.
Comparing Pathankot attack to last year's Paris attack, he said that France was quick enough to respond on their soil, whereas, India has done nothing so far.
"Every country has done whatever it could do to deal with terrorism as strongly as possible. It's only India which has suffered from cross border terrorism for over 25 years and we are still struggling," Sinha said.
Security forces continued search and combing operation inside the Pathankot air base on Tuesday -- the fourth day after the attack on the frontline Air Force Station (AFS) by suspected Pakistani terrorists.
The counter offensive against the terrorists at Punjab's Pathankot air base was going on for the past 77 hours.
Seven security personnel, including an officer of the National Security Guards (NSG), an IAF Garud commando and five Defence Services Corps (DSC) personnel, were killed by the terrorists.