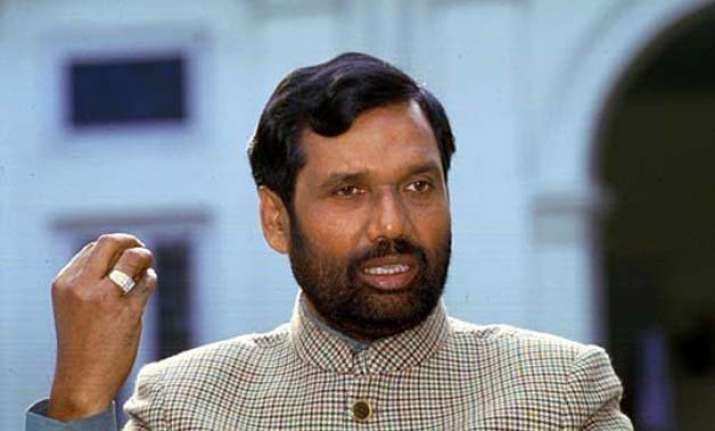 Patna: Lokjanshakti Party (LJP), an NDA ally, today supported Amit Shah's "jungle raj 2" barb against Nitish Kumar government and also mocked at talks of merger of old Janata Parivar.
"He (Amit Shah) has rightly said that jungle raj has returned in Bihar after joining of hands by Nitish Kumar and Lalu Prasad," LJP President and Union Minister Ramvilas Paswan told PTI.
Influence of Lalu Prasad's RJD was growing on governance in the state and reports of rape, loot, murder and kidnapping are seen in newspapers everyday, Paswan said to stress his accusation of slide in crime situation under Nitish Kumar government.
Asked about his being with Lalu Prasad before going with BJP in last general election and echoing the "jungle raj 2" barb now, Paswan said LJP was never a part of RJD government in the state.
"In fact I played a prominent role in fighting the crime situation during 15 years of RJD rule in Bihar from 1990 to 2005 which is described as jungle raj," he said.
The union minister mocked at efforts to merge six splinter parties into old Janata Parivar and said it would have no impact on Bihar assembly elections later this year.
"Hundreds of one-legged men do not make a wrestler," he said using a colloquial saying.
"From 'lathbandhan' (fighting lot) now they are trying to forge a 'gathbandhan' (alliance). It will have no impact in Bihar polls as people have made up their mind to bring in the government of NDA in the state," he said.
Accompanied by son and MP Chirag Paswan, the union minister earlier in the day attended a programme at Mokamah in the outskirts of Patna district.
There he claimed that the NDA combine of BJP, LJP and Rashtriya Lok Samata Party (RLSP) would win not less than 190 out of a total of 243 seats in Bihar assembly in the election.