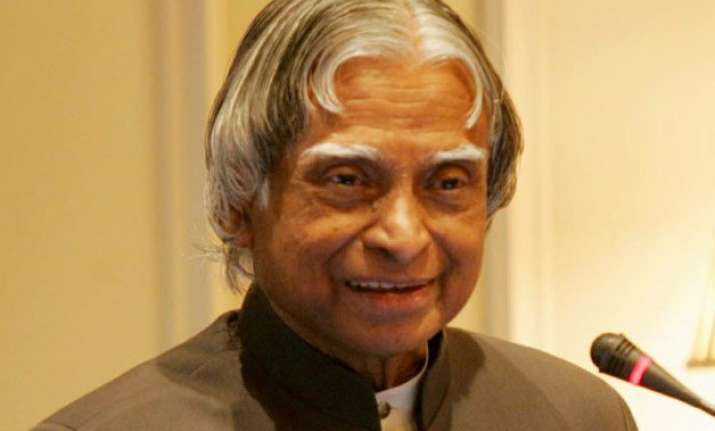 New Delhi: Parliament today hailed APJ Abdul Kalam as the "real gem" of India, saying the death of the former President has taken away its "true son" who became the driving force behind the country's space and missile programme.
"In Dr Kalam's death, the country has lost a sagacious statesman, a great scientist and a friend of the under-privileged and a fine human being," the Lok Sabha said in a glowing tribute to Kalam, who died in Shillong yesterday. The Rajya Sabha said: "In the passing away of Dr A P J Abdul Kalam, the country has lost a true son of India and his contributions to the nation, in his capacity as a man of technology, a teacher and a leader will be deeply cherished by a grateful nation."
As a mark of respect to the departed leader, members in both Houses stood in silence for a brief while before the proceedings were adjourned for the day.
The Lower House was adjourned till July 30 to enable members to attend the late President's funeral ceremony tomorrow, while the Upper House would have its sitting tomorrow.
Paying rich tributes to Kalam, who served as President from 2002-2007, Lok Sabha Speaker Sumitra Mahajan said he was the "real gem of India". Till his last breath, he was doing what he loved best, interacting with young India, igniting their minds with scientific temperament and spirit of inquiry.
Noting that Kalam was a unique personality who embodied rare intellectual brilliance and an undying scientific zeal, Mahajan said he worked his way to become the driving force behind India's space and missile programmes and "came to be known as the 'Missile Man of India'".
He played a pivotal organisational and technical role in India's Pokhran-II nuclear tests in 1998, the first since the original nuclear test by India in 1974, the Speaker said.
"Kalam was a noble man of 83 years, with energy and enthusiasm of 38 years and an innocent smile of an 8-year old," Mahajan said.
She said his passing away has indeed left a void but his life will ever remain an inspiration to all. "He has left an indelible imprint upon our national psyche."