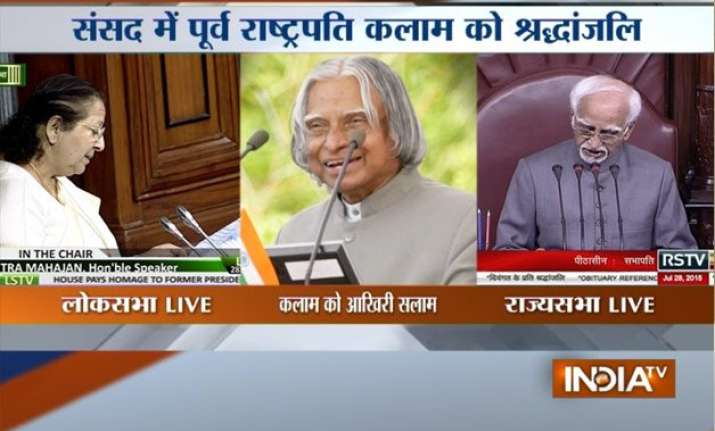 New Delhi: Both Houses of Parliament were adjourned today after paying glowing tributes to former President APJ Abdul Kalam.
Kalam passed away yesterday at a private hospital in Shillong. He was 84.
Speaker Sumitra Mahajan said that the Lok Sabha will now meet on July 30 at 11 am.
The Rajya Sabha will hold its next sitting tomorrow.
The Union Cabinet today also passed two separate resolutions condoling the death of Abdul Kalam and the loss of lives in Gurdaspur terror attack.
The last rites of Abdul Kalam will be held in his native town Rameswaram as per the wishes of his family members.
"A large number of relatives, friends, well wishers and common people have gathered at Kalam's house at Rameswaram," APJMK Sheik Saleem, the former president's grandson, told IANS over phone.
Saleem is the son of Kalam's brother APJM Maraikayar.
President Pranab Mukherjee, Prime Minister Narendra Modi and all political leaders expressed there condolence over Kalam's sudden demise saying that the former president will be always be remembered for his passion for science and innovation.
The Central government has also announced a seven-day state mourning in honour of Abdul Kalam, however, there will be no holiday.