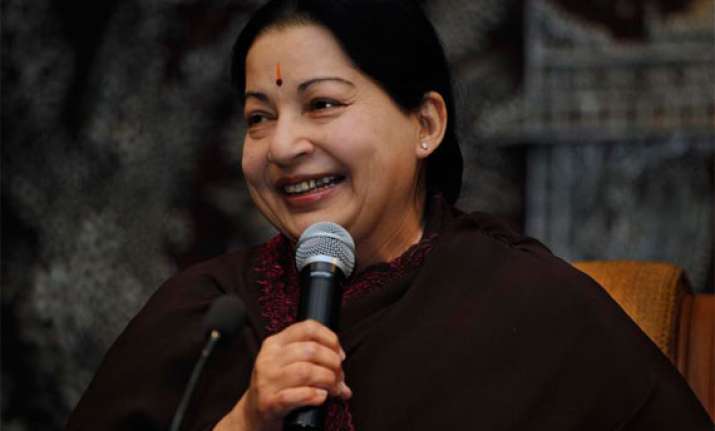 Chennai, Feb 20: Tamil Nadu Chief Minister J. Jayalalithaa Wednesday termed the gazette notification of the Cauvery Water Disputes Tribunal's (CWDT) final award as the culmination of 22 years of struggle and a "great victory for me and my government".
Terming the notification a "birthday gift" (her birthday falls Feb 24), Jayalalithaa said it was a "big personal achievement in her 30 years of political life".
She said that for the first time in 30 years in politics, she was experiencing "a sense of fulfillment and achievement".
According to her, the state has permanently secured its rights to Cauvery river water and it is the happiest day of her life and of the lives of farmers in the Cauvery delta region.
Showing a copy of the gazette notification to the media here, Jayalalithaa said the notification marked the culmination of the 22-year-long struggle that began in 1991 when she became the state's chief minister for the first time.
Jayalalithaa said she became Tamil Nadu's chief minister for the first time June 24, 1991 and on the next day the Cauvery Tribunal gave its interim award, which was challenged by Karnataka in the apex court.
The Karnataka government also passed a law to nullify the tribunal's interim award.
She said it was under her orders that Tamil Nadu approached the Supreme Court, which struck down Karnataka's law.
"The next hurdle was notification of the interim award in the gazette by the central government. The central government was reluctant to do that," Jayalalithaa said.
The state government again approached the apex court and in December 1991 the interim order was notified in the gazette.
According to her, it was a long struggle to get water from Karnataka as the water release by the latter was not as per the prescribed formula.
Recalling her four-day fast in 1993 here, demanding release of Cauvery river water, she said on the fourth day, on the assurance of the Union Minister for Water Resources that the mechanism for sharing of water would be set up, the fast was ended.
Following that, the Cauvery River Authority (CRA) and Cauvery Monitoring Committee (CMC) was set up.
"In the past few years the central government was reluctant to convene a meeting of the Cauvery River Authority. We had to approach the Supreme Court for that," she said.
Referring to the gazette notification of the CWDT's final order, Jayalalithaa said: "Now it becomes binding on Karnataka."
She added that Karnataka should release water as per the award during normal times and during periods of distress, the water would be shared as per the distress formula mentioned in the award.