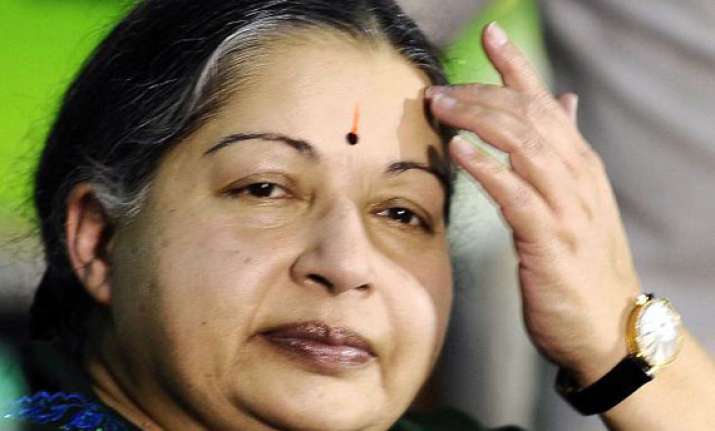 Chennai: Madras High Court yesterday ordered notice to Election Commission of India and AIADMK General Secretary Jayalalithaa, returnable by 10 days, on a petition by DMK to cover that party's reserved symbol of two leaves in government property, specifically MGR Memorial statue near Marina beach.
Justice M Venugopal also issued notice to Chief Secretary, PWD Secretary and PWD Chief Engineer on the petition filed by R S Bharathi, DMK's state Legal Wing Secretary.
Bharati contended that he had filed a petition on December 7, 2012, to forbear construction of the statue, but it was unveiled on December 9 by Jayalalithaa.
So he amended the prayer in his petition, seeking a direction to get the symbol covered.
He said the petition was admitted with a direction calling for the records, but government was yet to file a counter. So he filed a miscellaneous petition,contending that the 15th Lok Sabha's term ends on May 31 2014, the LS polls may be held at any time and EC had already started preliminary work.
Bharathi alleged that inaction of competent authorities in taking timely preventive action had resulted in the ruling party 'misuing' their power and imprinting the symbol on government transport buses and on water bottles sold by it.
He said the sequence of display of the symbol and photos of its party leader in government property showed they are using public funds for 'political mileage' and to popularise their symbol, that too during the election period. Hence, the ruling AIADMK is liable to compensate the amount utilized for display and coverage, he contended.
The petitioner recalled the case in Uttar Pradesh, where EC ordered BSP's elephant symbol on permanent structures to be covered up and said EC is duty-bound to strictly implement its own rules.
He also alleged that visibility/existence of giant size ruling party election symbol abutting heavy traffic road would definitely influence voters in the poll and hence it was necessary to cover it. If it was not done, it would jeopardise the concept of free and fair election and also give undue advantage to the ruling AIADMK.
He said it is just and necessary to cover up two leaves in government property of MGR Memorial with material making it invisible to public by collecting all expenses from AIADMK.
The bench then ordered notice.