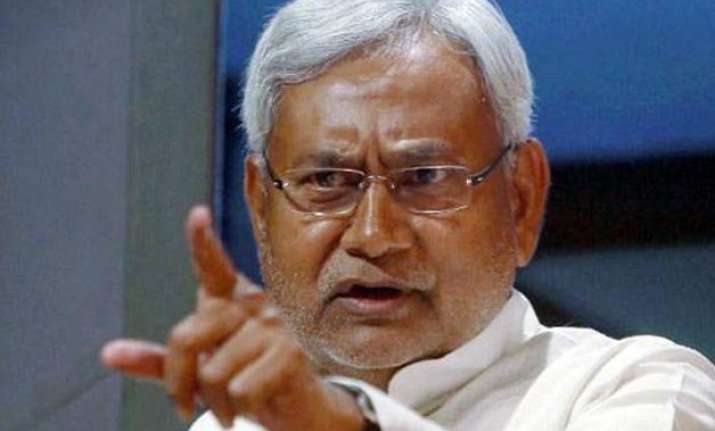 Patna: Janata Dal (United) today rolled out its 'Shabd Wapsi' (take back your words) campaign as part of which DNA samples along with signatures will be sent to Prime Minister Narendra Modi demanding that he retracts his DNA barb against Chief Minister Nitish Kumar.
"You cannot escape after speaking something which does not suit a person holding high constitutional post of Prime Ministers...we will take the issue to its logical end," Chief Minister Nitish Kumar told reporters on the start of the "Shabd Wapsi" campaign by his party.
"He (PM) should have thought what he is speaking. But, since now he has insulted people of Bihar through his DNA comment he has to face protest of the people," the CM said.
As part of the campaign, JD(U) workers were seen cutting their hair and nails and stuffing them in packets as samples for sending it to the Prime Minister for DNA test.
Alongside the JD(U) camp at Gardanibagh, youth wing of RJD had also set up a similar camp.
Asked his views on BJP leader Sushil Kumar Modi's question as to who would bear the cost of DNA tests of 50 lakh people which would incur more than Rs 3000 crore, Kumar said, "We are only sending samples to the PM who has to bear the cost of getting them tested."
Kumar said he along with RJD President Lalu Prasad and Congress leaders would hold a press conference tomorrow to brief about the programme of the secular alliance.
Kumar had yesterday announced launch of "Shabd Wapsi" campaign to put pressure on the PM to take back his DNA barb against him during the July 25 rally at Muzaffarpur.
He had said that a "Swabhiman (self-respect) rally" would be organised in Patna on August 29 at the end of the first phase of the campaign.
Meanwhile, RJD President Lalu Prasad questioned why the BJP was silent on the Vyapam scam.
"Why are those shouting 'jungleraj-jungleraj' keeping silent over 'Vyapamraj'? If they speak on this then Parliament will function...so much of double standard?" Prasad said in a tweet.
The RJD chief was in the firing line of the PM at his Gaya rally.