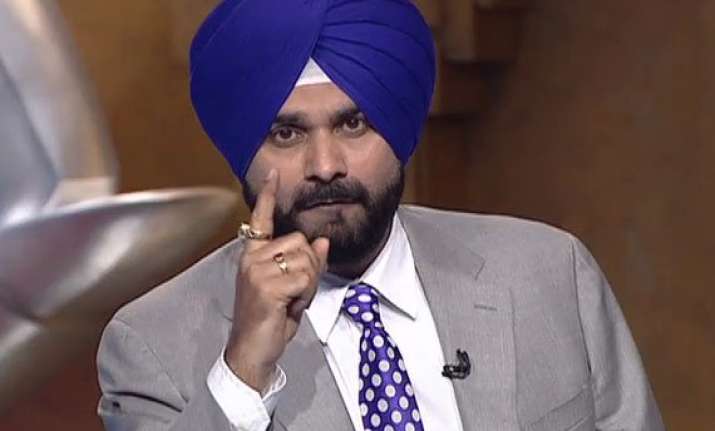 Chandigarh: Shiromani Akali Dal (SAD)-led Punjab government today restored the security cover to former BJP MP Navjot Singh Sidhu, a day after he attacked the ruling dispensation for withdrawing it.
The security cover to Sidhu has been restored and he has been provided three Punjab police gunmen, Punjab police said.
Sidhu had yesterday attacked the ruling SAD-government in Punjab for indulging in "petty" politics and hitting "below the belt" after it withdrew his security cover.
"There were three security personnel provided to me for security. All of them have been withdrawn," Sidhu had said yesterday.
Meanwhile, attempts to reach out to Sidhu turned futile as his associate said the former Amritsar MP has gone abroad from Maharashtra.
He, however, said the security cover to Sidhu had been restored. Sidhu's wife, Navjot Kaur, who is a sitting MLA and Chief Parliamentary Secretary (CPS), is away to Delhi for a "family function," her associate said.
Sidhu had taken on the SAD leadership head-on during his canvassing for the BJP candidates in Haryana.
SAD is contesting assembly polls in Haryana in alliance with the Indian National Lok Dal (INLD), the party which was under severe attack from Prime Minister Narendra Modi during his election rallies in the state.
The cricketer-turned-politician had said they (Akalis) have no answers to the questions he had raised.
Sidhu had said whatever he had been saying (about Akalis), they should have called him and discussed the matter across the table rather than taking such "petty steps and hitting below the belt".
Among other places, Sidhu had also campaigned against the Akalis in Ambala City and Kolianwali in Sirsa, both of which are being fought by the SAD.
The remaining 88 seats in 90-member Haryana assembly are being contested by SAD's Haryana ally the INLD.
Taking a dig at SAD for tying up with INLD in Haryana, Sidhu, during his campaigning, had said, "Our allies hug us in Punjab, but in Haryana, they are wrestling with us (up against BJP), which is unethical...".
Taking a strong note of the "withdrawal" of the security cover of Sidhu by the Punjab Government, State BJP President Kamal Sharma had termed the development as "extremely unfortunate".
"The Punjab BJP does not endorse the decision taken by the government. There are so many political leaders and other personalities, who have been given so much security notwithstanding any such threat perception," Sharma had said in a statement here.
He said Sidhu is not only a former Parliamentarian but an iconic personality and genuinely requires security cover.
He had demanded that Chief Minister Parkash Singh Badal should immediately intervene and issue orders for restoring security to Sidhu.