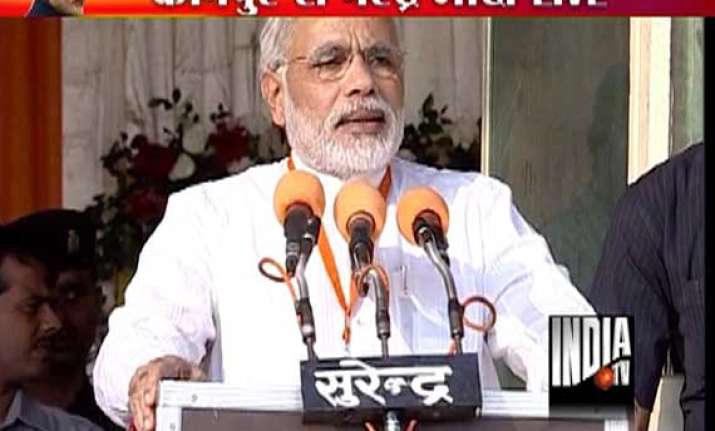 Kanpur: Gujarat Chief Minister Narendra Modi today addressed his first rally in UP after being declared as BJP's prime ministerial candidate in upcoming general elections.
Modi addressed the rally at Kanpur. Lakhs of BJP supporters and workers attended this rally.
UP with 80 Lok Sabha seats is very crucial to Modi for his prime ministerial ambitions.
Here goes minute-by-minute updates of this rally:
16:43
- Modi ends his speech with forceful shouting of 'Bharat mata ki jai' and 'Vande Mataram'.
16:41
- Modi: People of Kanpur  have to fight this war of 'suraj' in upcoming elections  the same way they fought the first war for independence in 1857.
16:40
- Modi: I promise to people of Kanpur that I'll return your love and affection with interest.
16:35
- Modi attacked Food Security Bill by saying that the quantity of food under this scheme  may be enough for children but not for adults. He said that despite this lacuna , Congress is taking credit for it.
16:32
- Modi: BJP believes in taking along everybody. We believe in development for all irrespective of caste,creed and religion.
16:30
- Modi: every government should have only one philosophy - Nation First. Every government should have only one scripture - constitution of India.