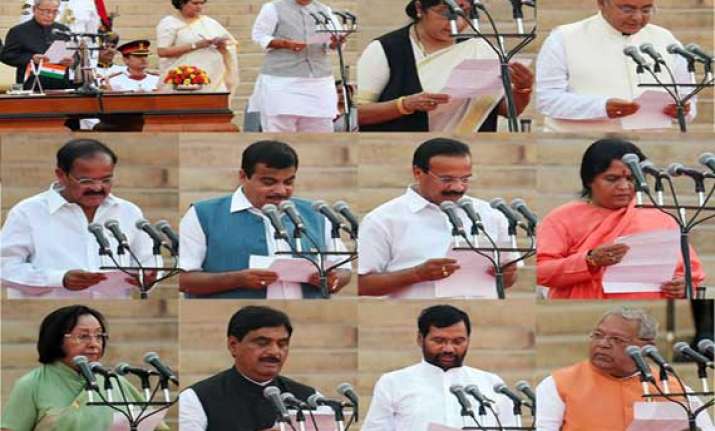 New Delhi: Marking the beginning of a new era in Indian politics, Narendra Modi was today sworn in Prime Minister at the head of a 45-member coalition government after the elections threw the first government with absolute majority in 30 years.
The other BJP MPs, who were sworn in as cabinet ministers were Gopinath Munde, Sadanand Gowda, Kalraj Mishra, Najma Heptullah, the lone Muslim face, Narendra Singh Tomar, Jual Oram, Radha Mohan Singh and Thawar Chand Ghelot.
Here is the list of portfolios allotted to different ministers in the Prime Minster Narendra Modi's cabinet:
Cabinet Ministers:
Narendra Modi, Lok Sabha MP from Vadodara and Varanasi, Rajnath Singh: Home Affairs, Arun Jaitley: Finance with additional charge of Defence, Sushma Swaraj: External Affairs,
Nitin Gadkari
: Surface Transport and Shipping, Venkaiah Naidu: Urban Development and Parliamentary Affairs, Sadananda Gowda: Railways, Ram Vilas Paswan: Food and Civil Supplies, Gopinath Munde, Lok Sabha MP from Beed, Maharashtra, Kalraj Mishra, Lok Sabha MP from Deoria, UP, Maneka Gandhi: Women and Child Development, Ananth Kumar: Parliamentary Affairs, with additional charge of Chemicals and Fertilizers , Ravi Shankar Prasad: Telecom, Law and Justice, Ashok Ganapathi Raju, TDP - AP , Ananth Geete, Shiv Sena, Maharashtra, Harsimrat Kaur, SAD, Punjab Narendra Singh Tomar, MP from MP, Jual Oram: Tribal Affairs, Thavarchand Gehlot, MP from MP, Smriti Irani: Human Resource Development , Uma Bharti: Water Resources and Ganga , Najma Heptullah: Minorities , Radha Mohan Singh: Agriculture, Harsh Vardhan, Lok Sabha MP from Chandani Chowk, Delhi.
Minister of State (Independent Charge): 10
General VK Singh, MP from UP, Santosh Gangwar, MP from MP, Sripad Naik, MP from Goa, Dharmendra Pradhan, Rajya Sabha member from Odisha, Sarbananda Sonowal, MP from Assam, Prakash Javadekar: Information & Broadcasting, Piyush Goel: Power, Jitendra Singh, MP from MP, Nirmala Seetharaman: Ministry of State for Commerce, Rao Inderjit, MP from Haryana.
Ministers of State: 12
GM Siddeshwara, MP from Karnataka, Manoj Sinha, MP from UP, Nihal Chand Upendra Kushwaha, MP from Bihar, Radhakrishnan P, MP from TN, Kiren Rijiju, MP from Arunachal Pradesh  Krishan Pal Gujar, MP, Haryana Sanjeev Kumar, MP from UP, Balyan Mansukhbhai Baswa, MP from Gujarat, Rao Sahab Dhanwe, Vishnudev Sai, MP Chhattisgarh, Sudarshan Bhagat, MP Jharkhand