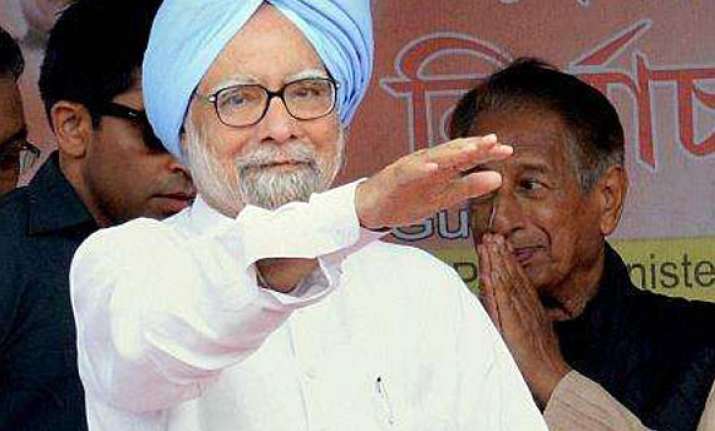 Ahmedabad: BJP on Saturday claimed Prime Minister Manmohan Singh had not mentioned his wife's name in the affidavit submitted along with nomination he filed as a Rajya Sabha candidate, as the party sought to blunt Congress' attack on Narendra Modi over his marital status.
"This is Manmohan Singh's affidavit that was put before the Rajya Sabha (Returning Officer). He has not put his wife's name in that affidavit. Why should we talk about such issues?" BJP spokesman Ravishankar Prasad told a press meet here while waving a copy of what he claimed was the PM's affidavit.
Prasad did not say the affidavit was from which year, but Gujarat BJP leaders claimed it was filed in 2013 when Singh was re-elected to the Upper House of Parliament.
"This country has been following a tradition that personal issues are not raised in public. His (Modi's) elder brother made a statement that he had left his home and family life to serve the country," he said.
Prasad was answering a volley of questions related to Modi's affidavit, submitted along with nomination paper filed from Vadodara Lok Sabha constituency, where for the first time he revealed he is married.
Launching a counter-attack on Congress Vice-President Rahul Gandhi, who had yesterday referred to Modi's personal life, Prasad said, "Rahul Gandhi's understanding is very limited and people of the country have understood it."
"But BJP has its own set of values and we do not comment on somebody's family issues. We can say many things about Pandit Nehru, Indira Gandhi, Rajiv Gandhi and Rahul Gandhi. But we do not have such values," Prasad said.
"They do not have important issues to raise. Hence, they sometimes raise the issue of communalism, secularism or personal issues."
On Finance Minister P Chidambaram not contesting elections, Prasad said, "The day Chidambaram ran away from electoral battle, it was the first confirmation before the people that Congress is reluctant to fight. Chidambaram was the face of Congress' development plank."
Prasad said BJP and its allies will win a major chunk of seats in Uttar Pradesh and Bihar, which together send 120 MPs to the Lok Sabha.