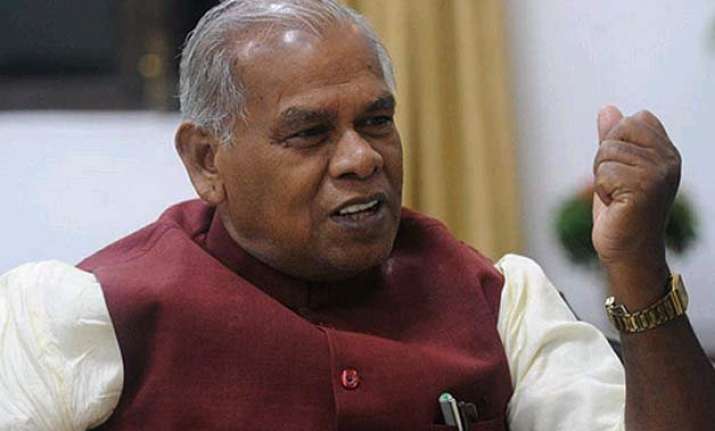 Patna: Bihar Chief Minister Jitan Ram Manjhi will seek trust vote in Bihar Assembly today. Governor K N Tripathi had asked Manjhi to prove his majority in the Assembly on February 20 after a majority of Manjhi's cabinet ministers revolted against him.
Meanwhile, a day ahead of trust vote, Manjhi created another controversy by offering ministry to those who wanted to cross over to his side.
Addressing a Mahadalits convention at Patna's SK Memorial Hall, Manjhi said "You want to become a minister, come to me."
Manjhi told the gathering that he was fighting for the pride of Mahadalits and would do all he could to save his government.
Earlier, ending suspense on its stand, BJP Thursday announced it will back Bihar Chief Minister Jitan Ram Manjhi and vote in his favour if the trust vote is taken up in the Assembly tomorrow.
BJP has issued whip to its MLAs to vote for Manjhi during the trial of strength, senior party leader Sushil Kumar Modi told reporters Thursday.
Sushil Modi, who was flanked by state BJP leader Mangal Pandey and BJP Legislature Party leader Nand Kishore Yadav, said the party will neither join the Manjhi government nor take initiative to form a government on its own.  The announcement came after a two-day BJP LP meeting at Sushil Modi's residence.
Taking the high moral ground, he said BJP's support to Manjhi was aimed at avenging the insult meted out by Nitish Kumar to the mahadalit community, the poorest among dalits.
Meanwhile, asserting that Chief Minister Jitan Ram Manjhi's government has "fallen into a minority", the JD(U) Thursday charged it with "trying to survive by buying its MLAs" ahead of the confidence vote in the Legislative Assembly tomorrow.
In a hurriedly-called press conference, JD(U) state president Vashistha Narayan Singh presented party MLA from Sheohar constituency, Sharfuddin who alleged that Pappu Yadav, RJD MP from Madhepura had telephoned him offering him money and a minister's post if he supported Manjhi during the floor test.
"Pappu Yadav called me on my mobile and tried to lure me into supporting Manjhi by promising me all sorts of things. He said I will be given a minister's post, money and whatever I wish for if I vote in favour of Manjhi during the confidence vote," Sarfudding told reporters.
The Sheohar MLA also played the recording of the phone call, allegedly made by Yadav, and said that he was staunchly with his party and accepted senior leader Nitish Kumar as its leader.
Deviating from his party line, Pappu Yadav had recently appealed to his party president Lalu Prasad not to support Nitish Kumar on the issue of Jitan Ram Manjhi's removal.
Pledging his support to Manjhi in his individual capacity, Pappu Yadav had appealed to MLAs, including those of his own party, to vote on the basis of  the"voice of their conscience".
Speaking on the occasion, JD(U) state president Vashistha Narayan Singh said, "The Manjhi government has fallen into minority, hence it is trying to buy our MLAs to survive the floor test. It has stopped thinking about ethics, morality and laws that prohibit horse-trading of legislators."
Singh added that all MLAs of JD(U) were united under the leadership of Kumar and Manjhi will lose the confidence vote, however hard he may try to survive by hook or by crook.
The JD(U) state president also alleged that the efforts to buy MLAs have the "nod of BJP, which is hand in gloves with Manjhi and Pappu Yadav".
"The real face of the BJP will get revealed tomorrow during the floor test. It is completely in cahoots with Manjhi and Pappu Yadav. It should reply to the public as to why it is trying to save the Manjhi government," Singh said.
Senior JD(U) leader and former Food Minister Shyam Rajak, who was present on the occasion said the unity of the legislators of his party will be witnessed by everybody in the Assembly tomorrow. He also charged Manjhi with playing the 'mahadalit' card for political gains.
BJP has 87 MLAs in the Assembly. The magic figure is 117 in the Assembly, whose effective strength at present is 233.
Manjhi had the backing of eight MLAs – four others have been debarred. On the other side, Mr. Nitish Kumar has the backing of 128 MLAs.