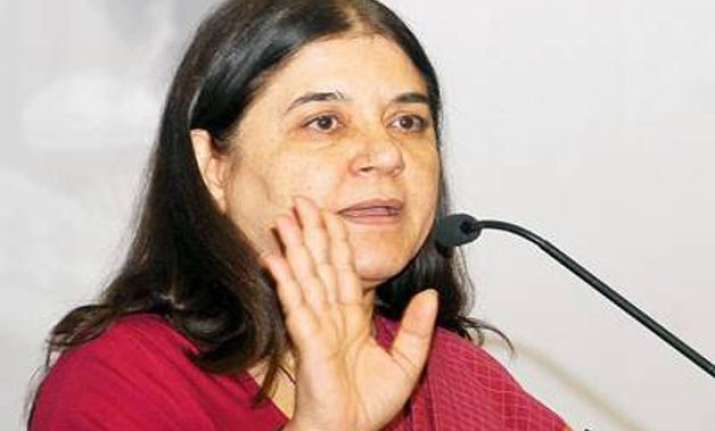 New Delhi: Facing criticism over her remarks favouring legality to sex determination tests, Women and Child Development Minister Maneka Gandhi today told Rajya Sabha that it was her "personal view" and "not a policy statement".
"You have said that I have made a statement. No, actually I didn't make a statement, but it was a remark that I have made. It is not a Government of India's policy nor is it a statement," Gandhi said in Rajya Sabha while responding to questions over gender.
She was responding to a question by Kanimozhi (DMK) who asked whether the government is planning to make sex determination legal and how does it plan to track millions of pregnant women and children when it has failed to track 50,000 registered ultrasound machines in the country.
Soon some other members in the House also objected to the minister's remarks made earlier.
When asked by CPI-M's Sitaram Yechury whether she was allowing it to be legal, the Minister vehemently denied it.
"No, no. At the moment, it is illegal to predict. I don't have the authority and I don't have the ability to make it legal. What I had suggested was this. Every woman, who becomes pregnant, will go to register in her district that she is pregnant so that when she has a baby, we can look at the statistics and say that this was born, that was born, what was born or what was not born.
"That is what I have suggested rather than locking up 750 persons operating ultrasound machines which is being done now.  That is all. Mine was not a policy statement. Accept it as my personal view," she said.
She said that 50,000 ultrasound machines that are in the country are required for many things other than just determining whether someone is going to have a baby boy or a baby girl.
The minister, at the same time, said while currently the focus was on arresting people doing ultrasound, it was a fact that even a police constable has the clout to force people carrying out such tests to inform him whether a lady is giving birth to a male or a female child.
"But because we are so strong about it, the Government before us was strong, and we are equally passionate about not allowing this, that we tend to focus our efforts on arresting the people doing ultrasound scanning and catching them in making prediction of any kind," she said.  Media reports had last month quoted Gandhi as saying that the 20-year-old Pre-Natal Diagnostic Techniques (Regulation and Prevention of Misuse) Act, 1994 (PNDT) has been a "failure".
"Make sex determination tests legal. Let the parents know whether the unborn child is a girl or boy, and then we, the lawmakers should start tracking the development of the child from thereon," Gandhi had then reportedly said.
Her remarks were slammed by activists, who had said that tracking about 50,000 registered ultrasound machines was much easier than a million pregnant women.
Replying to other supplementaries, she admitted that "female sex ratio is something that is worrying us as well".
She informed the House that under the WCD Ministry's 'Beti Bachao, Beti Padhao' campaign, the government is targeting 100 districts across the country with the worst child sex ratio in the first phase.
As per the Global Gender Gap Report 2014 by World Economic Forum, India ranks at 114 in respect of Global Gender Gap index, among 142 countries in the world, while as per the same report of 2013, it ranked 101 among 136 countries, she said.
"The worsening of the GGI in the year 2014 compared to the year 2013 has occurred because of low female labour force participation rate (LFPR) in the category of Economic Participation and Opportunity," Gandhi said.
The Minister said while she agrees that the participation of women in workforce in India is much lower, she said one of the reasons was that their contribution in household work is not taken into account. She felt that putting a monetary value to their work will improve this ratio.
"I agree that the participation of women in the workforce is low. But I don't agree with the figures which they have given. As I explained earlier, one of the reasons for lower women workforce is that the contribution of women in the informal and the household sector is not taken into account at all.
"If we were to evaluate or value women, who work at home, and put a monetary price on it, then we would hardly be having any  unemployment," she said.