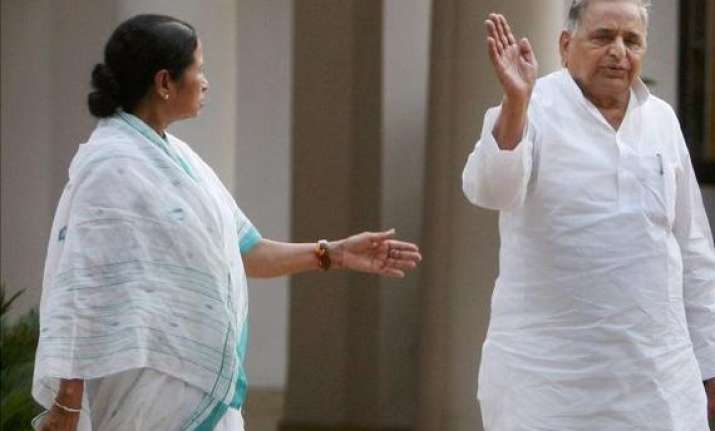 New Delhi, June 13: The Mamata-Mulayam announcement rejecting Pranab Mukherjee as Presidential candidate came as a surprise for Congress this evening.
Virtually the worst fears of Congress managers came true after the surprise statement of the TMC and SP coming out with three more names from their side including that of Prime Minister Manmohan Singh for the Presidential race.  
Leaders in UPA, apparently unaware of the Mamata-Mulayam strategy, termed as "immature" the TMC supremo's revealing the names of Pranab Mukherjee and Hamid Ansari as it has come in the midst of consultations in the ruling alliance.  
Congress managers were immediately in a damage control mode contacting the allies and telling them officially about the preferred choices of Congress President Sonia Gandhi who was authorized by the Congress Working Committee to decide the party's nominee for President.
There was no immediate reaction on record from Congress to the move by TMC and SP.
A section of Congress leaders however, expressed confidence that the issue will be resolvedas consultations proceed.
"These names are mere suggestions. Whatever Congress President decides will finally be accepted by the allies," the leader said downplaying the names thrown up by SP and TMC.  "The Congress President has named her choices. She will now talk to the allies regarding it," the leader said.  
As SP and TMC suggested the name of Prime Minister Manmohan Singh for Presidentship thereby implying a total change in government, a senior party leader said there is no scope for such a possibility.
Sonia Gandhi's strong defence of the government and the Prime Minister at the CWC meeting was a signal that the party wants Manmohan Singh to continue till 2014, the leader said.