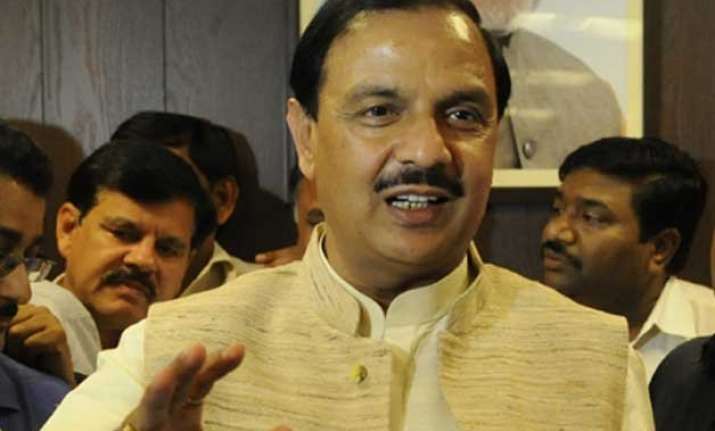 New Delhi: As more writers and poets decided to return their Sahitya Akademi Awards in protest against "rising intolerance" in the country Union Culture Minister Mahesh Sharma on Monday gave a curious twist saying he suspected their motives for such "not called for" action.
"If you go back to people, who have done this and if we explore their motives and what has been their background, I think something revealing will come out," Sharma said.
The minister's remarks came amid a slew of eminent writers returning their awards protesting against "rising intolerance" in the country. He stressed that those deciding to hand back the honours should have written to the state or central Government if they were concerned about the law and order situation.
"If there is complaint against the law and order situation, they could have represented it to the Chief Minister of the State, Home Minister of the country or the Prime Minister. They could have written to me as a Minister also. They have not done this. I think that is not called for or that is not a right way of presentation. I wish they would have represented their voice and we would have joined their voice. We are with them to support their cause that no body should be killed in this country," the Minister said.
At least 21 authors have announced their decision to return their awards with some warning that minorities in the country today feel "unsafe and threatened". Booker Prize winning author Salman Rushdie today joined the growing chorus of protests by leading writers against spread of "communal poison" and "rising intolerance" in the country.
Questioning the purpose behind returning the awards, Sharma, however said, "what is the theory behind, what is the philosophy behind, I cannot understand."
He said that as an individual, they have got the award, which was given to them by a group of literary persons on the basis of some of their writings, some of their books or in different languages.
"It is not a Government of India award, it is not a Padma award," he stated.
Asked about concerns expressed by these writers about 'rising intolerance', the Culture Minister shot back asking who was supporting it.
"Who is supporting this intolerance? The Government, the Minister or Sahitya Akademi?," he asked, stressing that everybody agrees with the contention of these literary experts that any killing is condemnable.
"If anybody is killed whether in this country or anywhere else in the world, whether it is a literary person or any common man, we all condemn it in strongest words and there is no doubt about that," he said.
The Culture Minister also commended the services of Sahitya Akademi Chairman Vishwanath Prasad Tiwari and made it clear that there was no plans by the Government to take over the Akademi.
"Of course, not at all," he replied to a question on whether the Government was mulling to take over Sahitya Akademi on the lines of Kala Akademi, an autonomous organisation of the Culture Ministry, which the Centre took over in April this year.