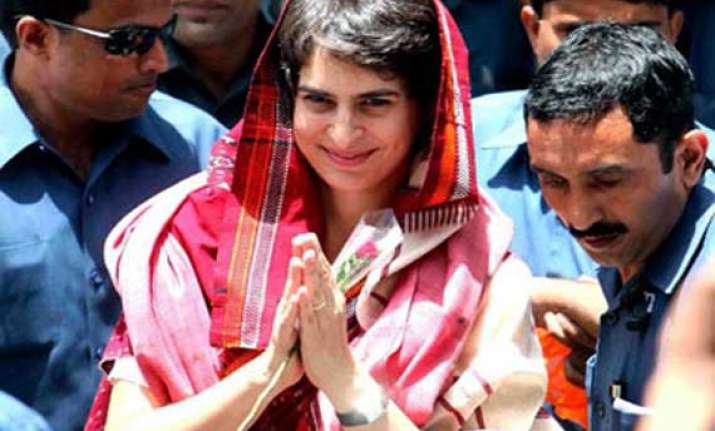 New Delhi: Battling on Rahul Gandhi's behalf, Priyanka Gandhi today took on Narendra Modi over his 'shehzada', "namuna" and other barbs at her brother, saying the BJP leader is aspiring to be Prime Minister but indulging in "childish" behaviour and that he should maintain decorum. 
Campaigning for Rahul here, she said BJP leaders used to make fun of her father and former Prime Minister Rajiv Gandhi when he introduced computers in the country and they are now "mocking" her brother.
"They call him (Rahul) 'namuna' (specimen). Sometime they compare him to a stand up comedian and sometime they call him shehzada.
I think you (Modi) aspire to be a Prime Minister, then why do you indulge in such childish behaviour? He (Modi) should take maintain dignity," she said at an election meeting at Deeh in Salon assembly area.
Priyanka, whose attack on BJP and its prime ministerial candidate over their targeting of her husband Robert Vadra has invited sharp reaction from them, continued with her criticism of the opposition party for its "destructive" policies which, she said, pitted one brother against another.
 Exhorting people to vote for Congress, she said a message should be sent from her brother's constituency about the kind of politics that should be practised in India.  "Their (BJP) politics is destructive.... Don't vote for yourself or Amethi. A message should go from here about the kind of politics needed in the country.
There should be clean politics," she said.
BJP candidate Smriti Irani and AAP, which has fielded Kumar Vishwas, also drew Priyanka's wrath as she accused Irani of holding meetings in dark rooms to tell people about lack of electricity and development in the constituency.
 "There are different governments in the state and the Centre. Sometimes, it causes inconvenience. Giving power is state government's job.... When UP government diverted power supply here, their (BJP) leaders agitated in Lucknow.
Now its candidate is doing drama here," she said.  AAP neither has power at the Centre nor in state and it cannot do any development, she said as she listed out the developmental works carried out by Rahul. 
She claimed that half of the programmes given in BJP's manifesto are that of Congress.
"BJP copied Congress' manifesto. When their leaders come before you ask them that whether they have any plan for development. If the people are aware then the politicians have to become accountable.
"Vote is your power understand it. If you would have not given the power, then nobody would have dared to stand before you like me," she said.
Polling in Rae Bareli will be held on April 30 and is scheduled on May 7 in Amethi.

Here are the live updates of Priyanka Gandhi's speeches: