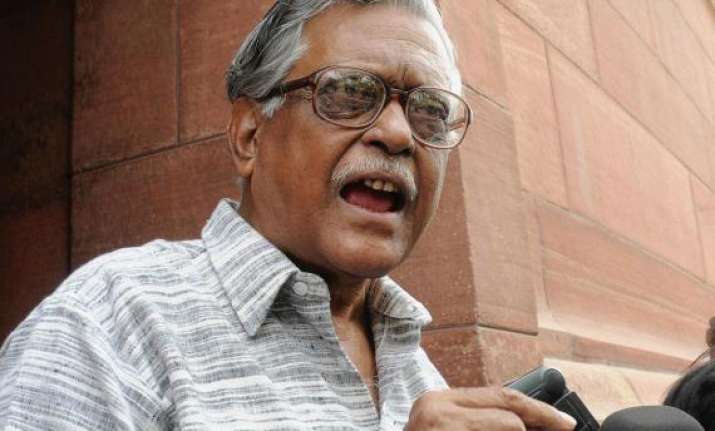 New Delhi, Aug 27: Left parties and TDP today demanded cancellation of allocation of all the 142 coal blocks and a thorough enquiry into the matter and attacked Prime Minister Manmohan Singh for his remarks against CAG.  
They also termed Singh's statement on the issue as "extremely defensive" and contained "several distortions".  
CPI leader Gurudas Dasgupta went to the extent of accusing the Prime Minister of showing "disrespect" to the Constitution by attacking the CAG, but dismissed suggestions that he was seeking his resignation, a demand voiced by BJP.  
Dasgupta wanted a judicial enquiry headed by a sitting Supreme Court judge in the issue, while CPI(M) spoke of a thorough probe.
At a joint press conference, leaders of CPI(M), CPI, RSP, Forward Bloc and TDP accused the Congress and BJP of "match-fixing" and disrupting Parliament proceedings saying that a discussion on the issue would "expose" them both.  
"It appears to be a case of match-fixing. It (disruption) suits both of them not to have a discussion on the issue.  Otherwise, both will be exposed," CPI(M) leader Sitaram Yechury said.
"The government is abdicating its responsibility by allowing BJP to disrupt the House. That shows they are hand-in-glove," he said.
Seeking a thorough probe into the entire allocation, he said "we want a thorough probe into the entire allocation to find out who was responsible, howsoever highly placed the person might be, cancellation of all coal block allotments and a discussion in the House."
Terming the Prime Minister's statement as "extremely defensive and laboured", he said Singh tried to "shift the entire blame on the state governments and the delay in the law-making process. There are several distortions in his statement".