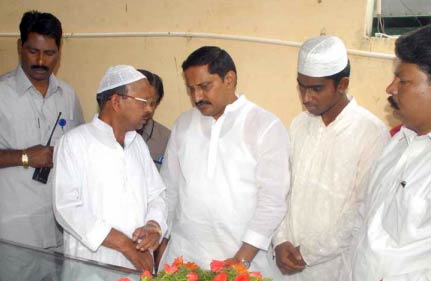 Hyderabad, Nov 24: Kiran Kumar Reddy will be the new Chief Minister of Andhra Pradesh after incumbent K Rosaiah resigned today in a surprise move as the ruling Congress battles dissidence and prepares to tackle the potentially volatile issue of a separate Telangana state.
On a day of fast-paced developments, 77-year-old Rosaiah, the stop-gap Chief Minister who took over in the aftermath of Y S Rajasekhara Reddy's death in September last year, resigned citing personal reasons.
Hours later, the Congress Legislature Party met and authorised party chief
Sonia Gandhi
, who named Kiran Reddy, currently Speaker of the Assembly, to succeed Rosaiah.
50-year-old Reddy hails from Rayalaseema region and was elected from Pileru constituency in Chittoor district.
After a brief meeting of the CLP, which authorised Gandhi to choose the new Chief Minister, top Congress emissaries Pranab Mukherjee, A K Antony, Veerappa Moily and Ghulam Nabi Azad met and discussed the issue with the Congress President.
"Congress President Smt. Sonia Gandhi has selected Kiran Kumar Reddy as the new leader of the Congress Legislature Party. He will be sworn-in tomorrow by the Governor as the new Chief Minister of Andhra Pradesh," Mukherjee said in a brief statement.
Out of the 156 Congress MLAs, over 140 MLAs attended today's meeting and they unanimously passed a resolution authorising Sonia Gandhi.
Nallari Kiran Kumar Reddy, a four-time MLA and YSR loyalist, is the son of late Congress leader Amarnath Reddy, who was considered the political guru of TDP chief Chandrababu Naidu.
With Reddy hailing from Rayalaseema region, someone from Telangana region, possibly Geetha Reddy, may be made the deputy chief minister.
Rosaiah has been surviving from one crisis to another triggered by rebellious campaign launched by Reddy's son Jaganmohan and the Telangana issue which had put the state on the boil last year-end.
"I have decided to step down from the Chief Minister's post purely due to personal reasons. There are no political reasons. I am telling you this from my heart," Rosaiah told reporters minutes before he tendered his resignation to Governor E S L Narasimhan. PTI