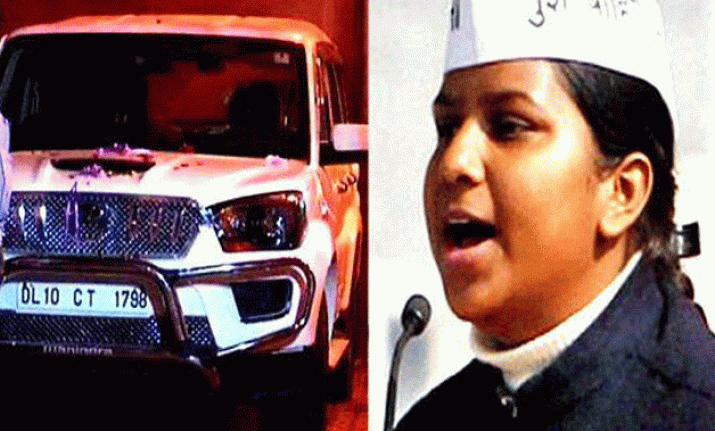 An SUV car, speculated as one expensive gift to the AAP MLA Rakhi Birla on her birthday, has turned the celebration sour.
The brand new SUV car, estimated to cost Rs 15 lakh, given as a gift to the MLA, raised fingers on the party's ideologies which boasted of simple living and high thinking.
Yesterday, the car and a brawl between supporters of party MLA Rituraj Jha and a group of protesters at the venue, embroiled the controversy-afflicted party into yet another one.
A group of people carrying placards turned up at the venue and alleged that Jha, also an invitee at the party, was shielding a murder accused.
A protester alleged, "We want justice for Gurudas who was kidnapped from his office on April 10. His body was later found dumped at Jharoda Kalan. The suspects are known to Rituraj. No one is listening to us".
A scuffle ensued when the protesters tried to barge their way into the celebrations.
On the other hand, social media went abuzz with the pictures of Birla's new car, forced due to which, the party had to issue a clarification saying that the car belonged to a party volunteer.
AAP spokesperson Deepak Bajpai said, "The Scorpio in question belongs to a volunteer. We have already shown ownership papers. The car was delivered to him yesterday. It had nothing to do with Rakhi."
"Jha had launched a campaign against gambling in his constituency because of which several anti-social elements were affected. The so-called protest was a result of his pro-activeness," Bajpai added.
The party in question was a magnificent stall put up in the Mangolpuri area, where along with several others Kirari MLA Rituraj was also invited. Both Birla and Rituraj danced a lot. However, the celebrations got spoiled and turned sour when the protesters tried to barge in the party.
Birla's brother and Rituraj had a scuffle with the protesters to a level that it went as a complaint to the police.
After the incident, both the MLAs were summoned in the party's office and were chided for the occurrence. The party had a long meeting over the issue at its office.