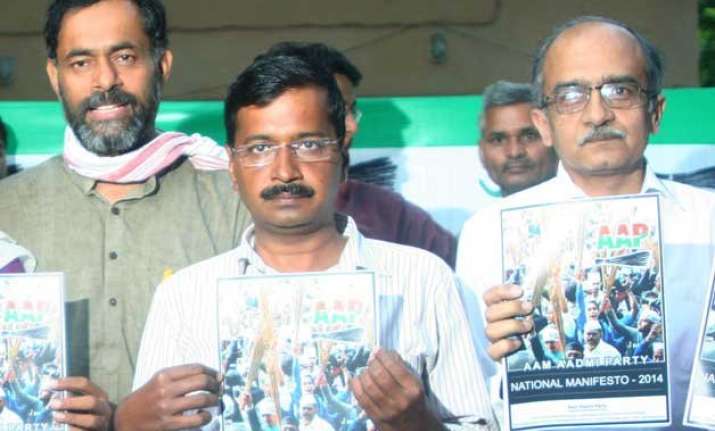 New Delhi: Delhi Chief Minister and Aam Aadmi Party (AAP) leader Arvind Kejriwal had insisted on the removal of two rebellions, Prashant Bhushan and Yogendra Yadav, from the party's top decision making body -- political affairs committee (PAC).
Sources said that Kejriwal, who had avoided engagements with Bhushan and Yadav on any of the issues raised by them, had stamped his dominance over the party when the duo was axed from the PAC at the national executive meet yesterday.
Sources said that the duo or one of them sought a one-on-one meeting with Kejriwal but there was no response given to them.
ALSO READ: AAP ousts Bhushan, Yadav from top body in split decision
It should be noted that decision to remove Bhushan and Yadav wasn't unanimous. With 19 of the 21 members attending the national executive yesterday, 11 voted to drop Bhushan and Yadav from the PAC while eight voted against.
Yesterday, Kejriwal had once again offered to resign from the national convener post but his resignation was unanimously rejected by the national executive. It is believed that Kejriwal had put a pre-condition before the national executive for his staying as the national convener. The condition, sources said, was to axe Bhushan and Yadav from the PAC.
Before Wednesday, sources said, serious efforts were made to sort out differences between Kejriwal and the duo but the former insisted on removal of the two leaders from the PAC.
At the national executive meet, Bhushan and Yadav had suggested that the PAC be reconstituted allowing new members to come in but pro-Kejriwal camp leaders opposed this and passed a resolution seeking removal of the two from the top body.
The removal of the Bhushan and Yadav was announced by party leader Kumar Vishwas who said that the national executive had decided that Bhushan, a Supreme Court lawyer and a founder member of the AAP, and Yadav won't serve in the PAC anymore and they would get new responsibilities.
Emerging from the meeting, Yadav, a known political pundit, told the media, "As a disciplined worker of the AAP, I will try to fulfil whatever role is assigned to me to the best of my capacity."
Wednesday's meeting was called after Bhushan and Yadav were accused by Kejriwal supporters of leading a virtual rebellion against the AAP leader, sparking an ugly exchange of words in the media.
Wednesday's decision exposed the schism within the party that was formed only in 2012 and won a thumping 67 of the 70 assembly seats last month.