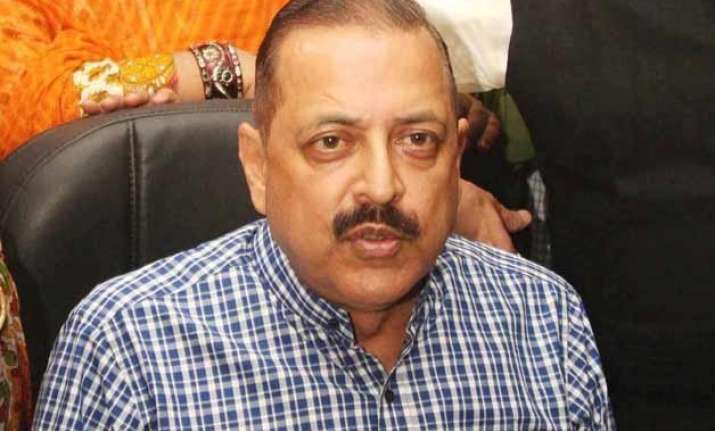 Jammu: Union Minister Jitendra Singh today condemned the waving of Pakistani flags at Hardline Hurriyat leader Syed Ali Shah Geelani's rally and said he was confident that the Mufti Mohammad Sayeed government would rise to the occasion and take steps to ensure such incidents do not recur.
"We (BJP and Central government) expect that he (Chief Minister) will live up to the expectations of people and the nation (by ensuring swift action in such incidents)," Singh, whose party BJP is part of the ruling coalition government in the state, said.
"It (waving of Pak flags) is condemnable. The government has reiterated time and again that there is no place for Pakistani flags being hoisted, but at the same time, I would hasten to add that the government in the state is capable of handling any situation like this and we expect that they would rise to the occasion," he said.
Singh, who is on a three-day visit to Jammu, said "the state government should go by the promise of not allowing such activities."
"State government and the Chief Minister have already taken appropriate action in similar incidents in the past," he said.
The rally held yesterday in Tral in South Kashmir, which was the first in seven years by the separatist leader in the militancy-infested township, witnessed pro-Pakistan sloganeering and waving of Pakistani flags.
"Apart from law, there is psychological angle to it. Any voice of sedition is not encouraged anywhere in the any democratic set up in the world. It sets wrong precedents," he said when asked whether Geelani should be arrested.
To a question on Mufti Government being soft towards separatists, Singh said that the state government had taken action against separatist leader Masarat Alam for holding an anti-India rally in Srinagar and hoped that they would act in a similar manner this time as well.
"Time and again this issue has been taken up with the state government and the chief minister has conveyed that they are handling the situation as per the law of the land," he said.
"They have taken action in some of the similar matters recently. So, I hope, they would also handle it in the manner which is expected from them," he added.
Jammu and Kashmir Deputy Chief Minister Nirmal Singh yesterday assured that strict action will be taken in the incident.
"We had taken action in the past in such incidents. Masarat Alam is put behind bars for his act. He was arrested under Public Safety Act. Law will take its own course and we will act," he said.
"Directions have been given and local police is going to act," he added.
"Since the day our government took oath in Jammu and Kashmir, we have been very strict about the display of Pakistani flags. The last time such an incident took place, the person responsible was arrested. Similarly, the law will take its own course this time and the government will act," Singh.