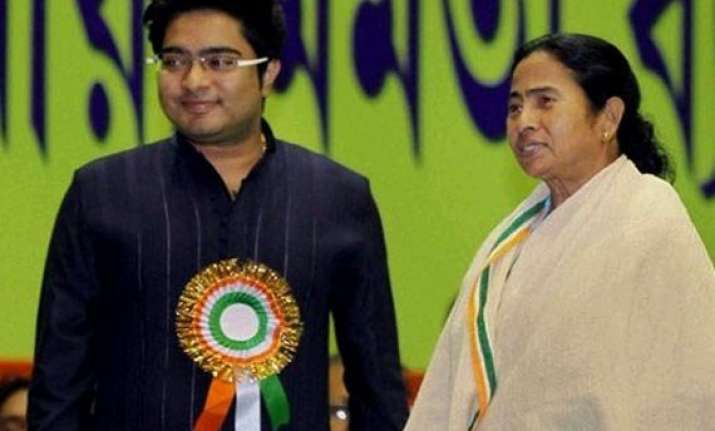 Kolkata: Trinamool Congress MP Abhishek Banerjee Monday hit out at BJP leader Subramanium Swamy for demanding West Bengal Chief Minister Mamata Banerjee's interrogation for her party's "links with terrorists".
Alleging involvement of Trinamool leaders in the Oct 2 explosion at a house in Burdwan district that killed two suspected militants, Swamy on his official Facebook page described Mamata Banerjee as "Jihadi Didi" and asked why was she not being questioned for her party's "links with terrorists".
 
Abhishek, nephew of Mamata, also used Facebook to question Swamy's credentials as a politician and challenged him to fight the Trinamool supremo democratically.
 
"Your credentials remain battered and bruised within the saffron fold, of which you are the self-proclaimed saviour. I challenge you to come and fight against Mamata Banerjee democratically," said Abhishek in his reply to Swamy.
 
Claiming that the militants killed in the blast were Indian Mujahideen jihadis, Swamy in the post accused the police of destroying crucial evidences before the arrival of central investigating agencies like the NIA and the IB.
 
Swamy's post read: "Documents and incriminating evidences, linking them to Al Qaeda and Indian Mujahideen, 55 IEDs and RDX, electronic equipment, maps and SIM cards along with some half-burnt Arabic books were found."
 
"What did Bengal police do with evidence? Promptly destroyed all of it before central investigators could arrive. What was the plan? Blasting away devotees on Dussehra, using powerful RDX explosives."
 
Swamy added: "Trinamool is already under police scanner for multi-billion-rupee Saradha scam where its MP Ahmed Hasan Imran was found to be financier of Bangladeshi terrorist outfit Jamaat-e-Islami."
 
"Last month, Al Qaeda had warned of 'jihad' in India. A warning which Indians took very lightly. Let's enjoy the borrowed peace while it lasts."
Dubbing Swamy's comments as "irresponsible, fictitious and malicious", Abhishek wrote: "May I please ask you about your credentials and contribution towards the society at large, which I dare say is hardly worth remembering. It seems you have started a new innings for the Bharatiya Janata Party by targeting individuals you can't face democratically. You can fight a court case but not elections."
"Again I condemn your blatant bunch of lies and pray to Almighty on this gracious occasion of Eid to impart some sense of rationalism within you. Get well soon," he added.
 
Besides Swamy, several other BJP leaders as well as Left Front chairman Biman Bose have alleged the involvement of Trinamool leaders in the Burdwan blast.