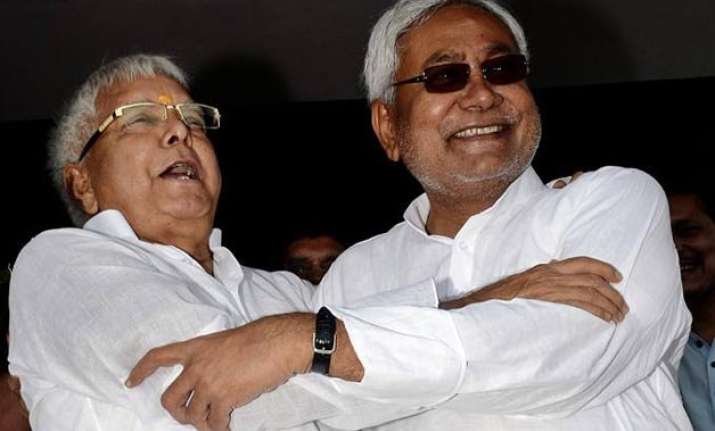 New Delhi: Lalu Prasad Yadav's Rashtriya Janata Dal (RJD) has turned down Janata Dal (United)'s demand to publicly declare Nitish Kumar as their common chief ministerial candidate for the upcoming Assembly polls in Bihar.
The latest development has stalled the Janata Parivar merger and put seat-sharing between the two parties at risk.
RJD negotiators argued that with Lalu out of the picture, Nitish is the obvious choice for CM post if their parties defeat Bhartiya Janata Party (BJP) in the assembly elections due later in the year and they need not to declare it.
They reportedly agreed to give a written undertaking that Nitish would be the CM of the 'secular' coalition.
JD(U) is, however, insisting on public declaration. Their negotiators argued that Nitish Kumar scores well as the state's CM and his projection would even help RJD candidates in the elections.
Leaders representing the RJD said that Nitish's projection will alienate the Yadavs, who continue to be resentful of the chief minister for the loss of the 'ruling class' status they enjoyed under the RJD government.
Last week, RJD vice-president Raghuvansh Prasad Singh had said that the party should get at least 145 out of a total 243 seats in coming Bihar elections, indicating tough posturing by the allies.
When Nitish was queried on this, he retorted, "Why 145? The entire 243 seats are available."
Singh had said that the 2010 Assembly poll results should not be the criteria for seat-sharing among RJD and JD(U) and instead strength of the party on the ground should be taken into consideration in deciding seats.
JD(U) had won 117 seats in the 2010 polls in alliance with BJP while RJD was confined to 24 seats at that time.
The standoff between the top two players may hamper their 'common goal' to halt BJP's winning streak. BJP is in power directly or is a coalition partner in four out of five states that have gone to elections since May last year.