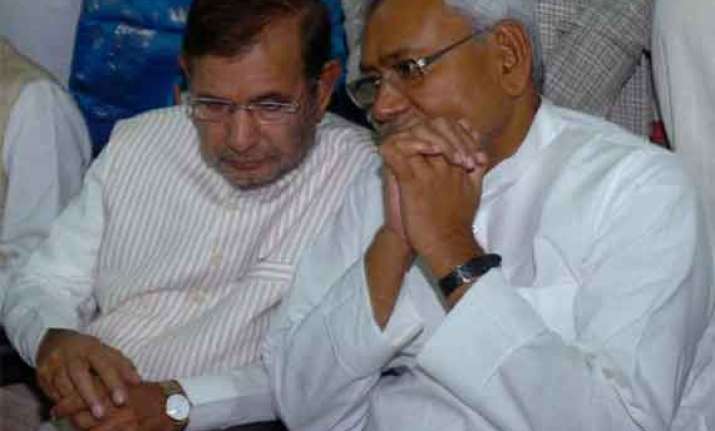 Patna: Rattled by activities of dissidents during the recent Rajya Sabha bypolls in Bihar, ruling JD(U) today decided to crack the whip on four of them and recommended the assembly speaker to end their membership for "consistent anti-party activities".
JD(U) Chief Whip Shrawan Kumar in a letter to Speaker Udai Narayan Choudhary recommending cancelling the membership of the four dissident JD(U) MLAs - Gyanendra Singh Gyanu, Rahul Kumar, Neeraj Singh Babloo and Ravindra Rai.  
They represent Barh assembly seat in Patna district, Ghosi in Jehanabad, Raghopur in Supual district and Mahua in Vaishali district respectively.
Shrawan Kumar, who is also state parliamentary affairs minister, told PTI that the activities of the four before the recent Rajya Sabha bypoll in the state suggest that they do not want to remain in JD(U) as whose members they were elected to the assembly.
The four, who were in the forefront in the dissident camp, were proposers, polling and election agents of two independent candidates against the party's official nominees of the RS bypoll, he said.
Shrawan had made public yesterday names of 18 JD(U) dissidents against whom he had sent a report to party president Sharad Yadav, leader Nitish Kumar, state party chief Basistha Narayan Singh and Chief Minister Jitan Ram Manjhi for initiating disciplinary action for acting against party direction in the RS bypoll.
The 18 rebel MLAs are Gyanendra Kumar Gyanu, Raju Kumar Singh, Neeraj Kumar Singh, Ajit Kumar, Anil Kumar, Rahul Kumar, Madan Sahni, Devesh Prasad, Suresh Chanchal, Ravindra Rai, Jakir Hussain, Sanjay Kumar, Rajeshwar Raj, Sunil Kumar, Meena Dwivedi, Amla Devi, Poonam Devi and Sujata Devi.  
Gyanu, once a close associate of former chief minister Kumar, was always spotted in his official residence here, had along with others fallen out with him and the party after the induction of 14 ministers in the Jitan Ram Manjhi ministry on May 20.
Ravindra Rai, who had recently vented anger against Nitish Kumar in public, has been suspended by Sharad Yadav.  Dissidents had allegedly worked in tandem with BJP during the RS bypoll for real estate baron Anil Sharma and Sabir Ali.  
But, JD(U) official candidates - diplomat-turned-politician Pavan Kumar Varma and Gulam Rasool Balyawi won with the support of Lalu Prasad's RJD.
JD(U) had made up its mind to crack the whip on the dissidents after they had made their decision public that they would not stop protesting against the party and the state government after the bypoll and take their protest to the people and also embarrass Manjhi government in the assembly.  
While recommendations for ending membership of four has been sent to the Speaker, rest 14 have been given time to mend ways.
Nitish Kumar had himself come down heavily on the dissidents during his interaction with mediapersons a day after results of the RS bypoll.
"Four-legged animals can be tamed but its difficult to stop free movement of two-legged animals," he had said.