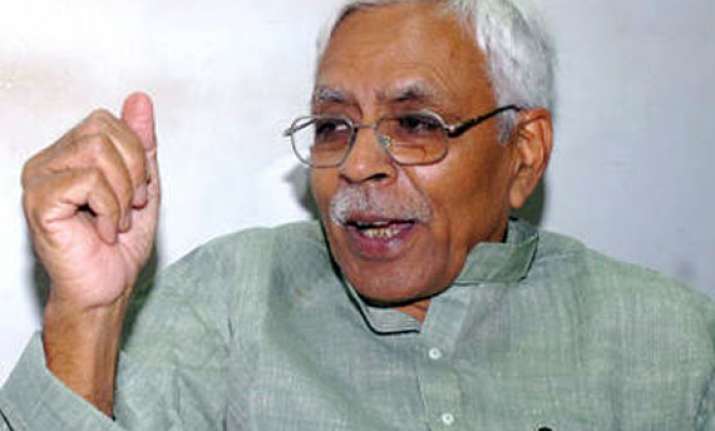 Patna, Jun 21: Slamming BJP for its 'NaMonia' jibe at Chief Minister Nitish Kumar, JD(U) today said it did not part ways with that party on communal lines but for its strident opposition to 'fascist and autocratic' forces whose rise could adversely affect the communal amity, unity and integrity of the country and peace in the society.
JD(U) had no option but to split from NDA as it was left in no doubt about the imminent rise of 'fascist and autocratic' leader Narendra Modi in BJP's power structure after his elevation as poll campaign chief and indirectly as its prime ministerial candidate, its national spokesman Shivanand Tiwari told a press conference here.  
The Gujarat chief minister, he alleged, has become 'so autocratic' that he has not allowed his own ministers, senior BJP and RSS leaders to stand upto him over the past one year and pushed them into oblivion one by one. 
"India will become Pakistan if Modi comes to power at the Centre - which we hope he will not - given the language in which he speaks," Tiwari said.
"JD(U) leadership has no regrets for parting ways with NDA." Like any other individual or entity, Kumar and JD(U) have taken the call of duty to protect communal harmony, diversity and unity and integrity of the country by standing in the way of rise of fanaticism and fascist forces.  
Referring to senior BJP leader Rajiv Pratap Rudy's caustic remark against Kumar yesterday, Tiwari said he was amused at the 'new-found courage' of that party's leaders for passing strong comments against Kumar after he chose to part ways with NDA.
"Why did no BJP leader from Delhi to Patna say anything when Kumar publicly insulted them by cancelling a dinner for them during 2010 national executive in Patna and returned Rs five crore cheque to the Gujarat government in protest against an advertisement showing him and Modi holding hands?
"If you (BJP leaders) had any self-respect, you should have reacted then and there," Tiwari said and asked BJP to refrain from making any offensive on Kumar any further.PTI