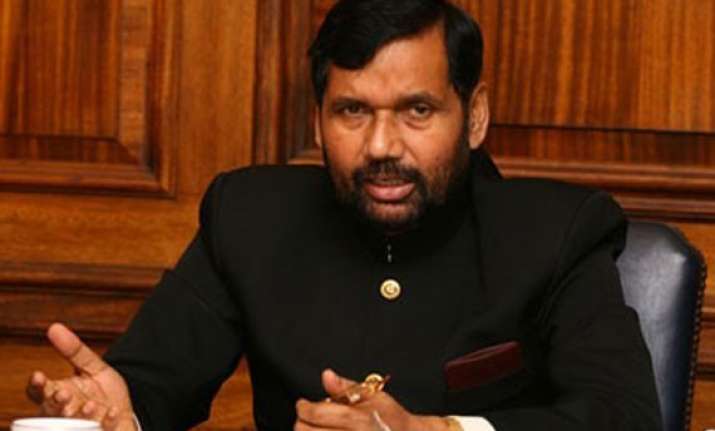 Jhunjhunu :  The JD(U)-BJP split will see a major swing of Muslim votes in favour of the LJP-RJD combine in next year's Lok Sabha elections, Lok Janshakti Party supremo Ram Vilas Paswan today claimed.
"The vertical rift between BJP and JD(U) will directly benefit the LJP-RJD combine and we are looking at favourable results in both the coming Lok Sabha polls as well as in Bihar elections later," Paswan told PTI in an interaction. 
Paswan and his party's minority cell's national president Kunwar Asim Khan both concurred that in the wake of the split, Muslim votes will swing significantly in favour of the combine.
"Post the split, we are looking for something close to 80 per cent of Muslim votes in next elections. JD(U)-BJP loss will be LJP's gain, both in the general elections and the state assembly polls, and we will emerge victorious," the Rajya Sabha MP said.
He called the results of Maharajganj LS bypoll in Bihar earlier as "signs of fall" for the JD(U) government, whose "real governance" he alleged had been exposed by Justice Markandey Katju earlier.
"The JD(U) time will be up very soon as evidenced by the Maharjganj bypoll results. And, the corrupt Nitish Kumar government and his newspaper-based governance have already been exposed by Justice Katju who has spoken about the 'press censorship' in the state," Paswan claimed.  
RJD had defeated JD(U) in the Maharajganj Lok Sabha bypoll this June by a convincing margin of over 1.37 lakh votes. Bihar has 40 Lok Sabha seats.
Paswan further attacked the Bihar government for "increasing crimes against Dalits and the poor and downtrodden in the still caste-ridden state".