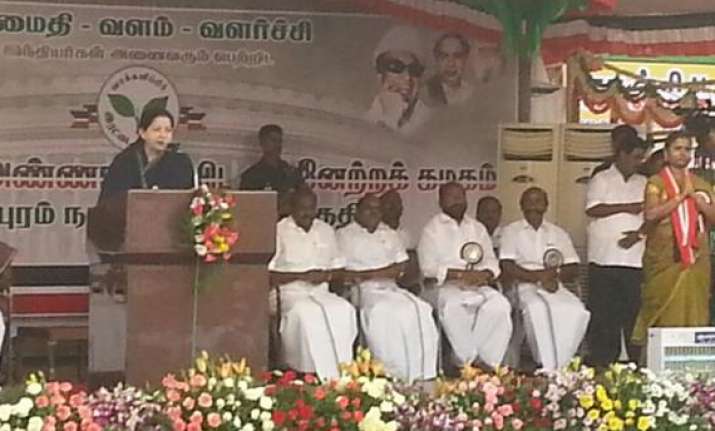 Chennai: Her shrill cry of "will you" attracts an equally high pitched "we will" as AIADMK supremo and Tamil Nadu Chief Minister J Jayalalithaa engages the audience in her efforts to stop DMK from gaining significant number of seats in the April 24 Lok Sabha polls.  
A key contender whose party she hopes to play a significant role in a post-poll scenario at the national level, the 66-year-old charismatic leader lists out the 'betrayal' of Congress and DMK and flogs the two at the smallest opportunity on matters ranging from national security to the vexed Sri lankan Tamils and fishermen issues.
A starlet and a protege of actor-politician M G Ramachandran who later went on to lead the party founded by him, Jayalalithaa has virtually placed herself as a messiah of the masses, making her 33-month governance initiatives the poll plank under the slogan 'Peace, Prosperity and Progress."
Speaking from a dais designed on the model of Parliament building echoing her aspirations of a national role—her supporters put it as 'Jaya for PM', the leader is at pains to describe in detail her government's pro-populist measures whose promise in the 2011 elections handed her a decisive mandate, reducing opposition parties, including DMK, to small numbers.
Jayalalithaa builds up her election addresses on the flagship schemes of free mixer-grinder, free milch cow and goats scheme, gold for thali (mangalsutra) and other initiatives that strike a chord with women, who incidentally happen to be a large part of her audience who brave the scorching March sun to have a glimpse of their 'Amma'.